Isaac Henry Tate
(1844-1932)
By Steven R. Butler, Ph.D.
---
Isaac H. Tate in the Civil War, Part One: 1862
Shortly after the Civil War began, Isaac's older brother James Madison Tate, age nineteen, enlisted in Company A, Fifteenth Alabama Infantry. His commanding officer, Col. William C. Oates, later wrote that James was "a man of poor health and delicate constitution." Nevertheless, "He was willing to serve and did the best he could." James Tate's compiled service record confirms that the young soldier suffered from chronic diarrhea, as well as typhoid fever, during his term of service. Oates also remarked that James Tate "was finally detailed as a baggage guard" and that his "health at length improved." Consequently, "he was with his command in several engagements toward the close of the war and was slightly wounded on picket [duty] in the latter part of 1864."
On April 15, 1862, at the age of seventeen, Isaac H. Tate likewise enlisted in the Confederate Army, as a private in Company K, Thirty-fourth Alabama Infantry. Although in his old age he recalled that he "joined the colors" at the town of Salem, in what was then Russell County, Alabama, the official record states that this regiment was organized at the nearby town of Loachapoka and that the unit included men from the city of Montgomery as well as Tallapoosa, Coosa, and Russell counties.
One of the first things my great-grandfather did after enlisting in the Confederate army was have his photograph made, no doubt by an enterprising professional photographer who traveled from camp to camp making inexpensive tintypes for the new enlistees to send home to their wives, sweethearts, or parents. Isaac's photo, which has been preserved for posterity by his descendants, shows him sitting on what appears to be a drumhead, dressed in a gray woolen uniform that is a little too large for his thin frame, and wearing a gray Confederate kepi on his head and a warlike scowl on his face. For a few cents more, no doubt, the photographer tinted his belt buckle gold, his cheeks a pale pink, and painted corporal's stripes on his sleeve, before placing the photo in a decorative copper frame and the whole inside a leather covered case, the top of which was long ago lost or misplaced. This photograph (without the frame), as well as information about Tate's experience in the Civil War, is included in the 2012 book, Portraits of Conflict: A Photographic History of Alabama in the Civil War by Ben Severance.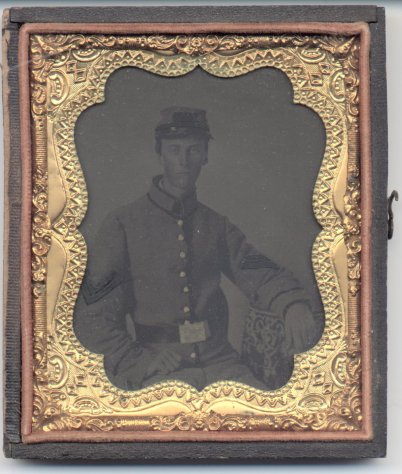 Pvt. Isaac Henry Tate by unknown photographer; author's collection.
From Lee County the Thirty-fourth Alabama marched the entire width of their home state to Tupelo, Mississippi, where, along with the Twenty-fourth and Twenty-eighth Alabama and two regiments from South Carolina, they were placed in a brigade commanded by Brigadier General Arthur Middleton Manigault. From Mississippi, "the regiment moved into Kentucky," but missed taking part in the Battle of Murfreesboro, Tennessee in December of that year.
Long before the battle took place however, young Isaac H. Tate had taken ill. Military service records show that he was admitted on August 22, 1862 to a hospital "at Tyner's," which may refer to the now non-existent town of Tyner's Station, Tennessee. He was still there in November but may have been discharged before Christmas. Whatever the nature of his illness, it cut short his military career-at least for a while. Sometime during the winter of 1862-1863 he was discharged and went home to recuperate. No doubt his father, brothers, and sister, as well as his new stepmother, stepbrother, and stepsisters, were all pleased to see him.
Continue to: Isaac H. Tate in the Civil War, Part Two: 1863
---
---
This website copyright © 1996-2011 by Steven R. Butler, Ph.D. All rights reserved.