The Dancer Family
By Steven R. Butler
Dancer Family
Peter Danzer/Dancer | Henry Dancer | Elijah W. Dancer | Maria E. Dancer
---
THE DANCER FAMILY
Documentary evidence confirms that I am related to the Dancer family by virtue of the marriage of my great-great-grandfather Daniel Pitts Seay to Maria Dancer, daughter of Elijah Dancer, son of Henry Dancer, son of Peter Dancer, who immigrated to the British colony of Georgia in the mid-eighteenth century. I am a DNA match to other Dancer family descendants.
---
PETER DANZER/DANCER
(Abt. 1730-Abt. 1789)
Peter Danzer, who "Anglicized" his surname to Dancer, was born in what is now Germany, about the year 1730. Nothing is known of his parentage, nor precisely where he came from, although his brief presence (1749-1750) in a colony of Salzburgers in America clearly suggests that he likewise came from Salzburg.
In or about 1749 he left Germany and went to Savannah, Georgia, where upon arrival, he became an indentured servant to Messrs. William Spencer and Samuel Mercer. Some researchers claim, although his name does not appear on the passenger manifest, that he made the transatlantic crossing aboard the brig Charlestown Galley, Captain Peter Bogg, which arrived at Savannah on October 2, 1749.
Samuel Mercer, a tanner by trade, was one of the first settlers to arrive in the newly-established colony-the brainchild of English philanthropist James Oglethorpe-in 1733. In 1738 the colony's trustees appointed him second constable of the fledgling city. Spencer, a vintner and a "gentleman," did not arrive until 1742. He too was an administrative official.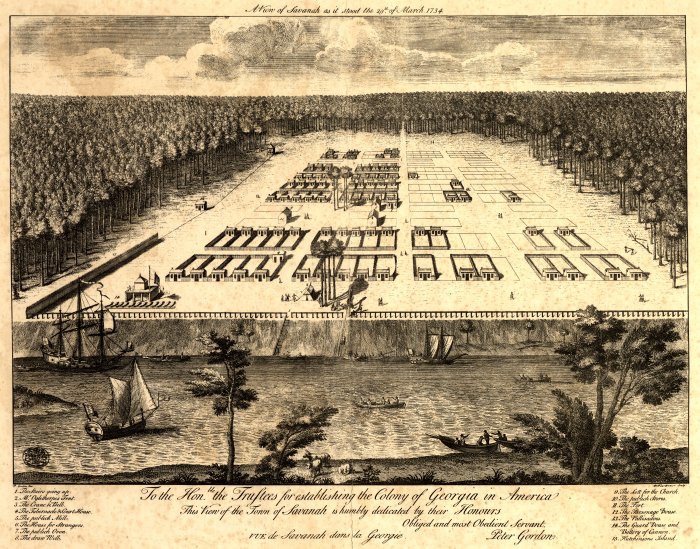 Savannah as it looked in 1734
The Savannah that Peter Dantzer saw upon his arrival was still a city in the making, having been established only sixteen years earlier. Rectangular with its streets laid out in a grid system, it was surrounded by fortifications that "afforded within its intrenchments an asylum whither the adjacent planters, upon occasions of alarm, might betake themselves with their families and personal property, and find refuge from the rifle and scalping-knife of the Indian." In each of the corner bastions "wooden towers were erected…with strong platforms in their first stories to support twelve pounder cannons."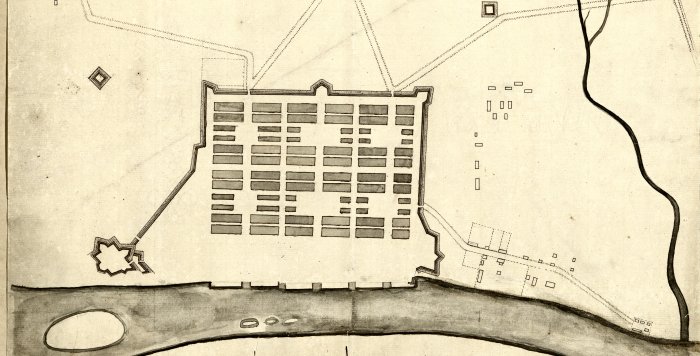 Map of Savannah as it was laid out about the time that Peter Dancer arrived

Apparently, Peter Dantzer did not like being an indentured servant because sometime in December 1749 or January 1750, only three months after his arrival in Georgia, he and three brothers-John Daniel Hertel, Henry Hertel, and John Broderick Hertel-ran away, escaping into the neighboring colony of South Carolina.

Shortly afterward, the following notice appeared in the South Carolina Gazette for the week of January 22-29, 1750:
Whereas, John Daniel Hertel, aged 26 Years, by trade a butcher, a middle-sized man, pock-frettan, and wants a finger on one hand, Henry Hertel, aged 24 years, of the same trade, middle sized, of a fair complexion; John Broderick Hertel, aged 22 years, of the same trade, middle sized, a scar in his left cheek; and Peter Dantzer, aged 19, a tanner, of low stature and pock fretten; all indented servants to Messrs. William Spencer and Samuel Marcer of Savannah in the colony of Georgia, have lately run away from their said masters' Service and are Supposed to have Secreted themselves in that province. Whoever shall apprehend them or any of them, and, deliver them to the said William Spencer or Samuel Mercer, or to Mr. Robert N. Williams in [word illegible] shall receive the sum of TWENTY POUNDS current money of the province of South Carolina for each one so taken and delivered, enclusive of all other reasonable charges for taking the same.
Although all four young men were German, Peter Dantzer and the Hertel brothers neither lived or worked among the Salzburgers who in 1734 had established a settlement called Ebenezer, about twenty-five miles upriver from Savannah. We can be sure of that because not long after they ran away, they were mentioned in a letter written by Mr. John Martin Bolzius, the religious leader of the German colony, to Mr. Martin, Secretary of the colony, in which he complains of two servants running away from Ebenezer, followed almost immediately by "four servants at Savannah, viz. Peter Danzer & 3 brothers, Hertell by Name and Butchers by Trade." Boleius went on to remark, "I am told, they are subsisted & encouraged likewise at the Congrees, the Refuge of all Sorts of People." He also explained how difficult it was to apprehend runaways:
We had many more Deserters at Savannah & here (at Savannah attempting all to run away) but they were retaken and corrected a good deal less than they deserved. I am sure, they had no just Reason to complain of any hard usage in their respective Services, & having received so many Benefactions at London by the generous & paternal Care of the Honble. Trustees, it is very culpable & wicked in them, to break so shamefully their Contract signed freely & solemly by them all. As long as such Things concerning the Servants don't come to a better Regulation in South Carolina ; & as long as the Government there rather protects than returns our Deserters, we are obliged to deal very tenderly with ill natured Servants to our great Disappointment & Losses, or else we must fear, they run away to Carolina & are allmost as safe as in St Augustine the Negroes. There is another Difficulty to apprehend Servants in Carolina, viz1 the general Indenture of the whole Embarkation of servants sent over by Their Honours. If a servant deserts our Place, we must copy the whole Indenture, & get it at tested & sealed by the Magistrates at Savannah. Before this is done, the Servant escapes our Reach on the other side of Savanah River. If each Servant had his own lawfull Indenture made out at London, & delivered here up to his Master, we could pursue him directly & prove our lawfull Claim to any Justice of Peace in South Carolina by producing such special Indenture.
Likely, Dantzer and the Hertel brothers escaped into South Carolina by stealing or "borrowing" a boat and rowing or paddling across the Savannah River. Whether any one of the four young men was ever apprehended and returned to his masters is uncertain. If they hid out in the swampland along the Congaree River, or Congrees as Rev. Boleius spelled it, it is entirely possible that all four managed to keep their freedom.
Although the Hertel brothers seem to be lost to history, we know that Peter Dancer, as he later styled himself, got married, had children, and became a land owner in Richland County, South Carolina. However, many of these things happened some ten to twenty years after his escape from bondage, which begs the question: Where was he, and what was he doing during all that time? Unfortunately, the answer has so far proved elusive.
The name of Dancer's wife has also been lost to history, but we do know that the couple had at least three sons and two daughters., and that the family resided in what is now Richland County, where the state capital, Columbia, was established by an act of the legislature in 1786. Prior to that time, the capital of South Carolina was Charles Town, or simply "Charleston," as it is known today. None of the Dancer children are identified by name in any available South Carolina records except the two oldest sons, Henry and John.
Two documents preserved in the South Carolina state archives reveal that in June 1770 Peter Dancer received a grant for 150 acres of land in Craven County, one of the three original colonial counties that were subdivided into smaller counties following independence from Great Britain. Other preserved documents reveal that in August 1771 he received a second grant, this time for an inverted T-shaped piece of land, containing 200 acres, on the north side of the Broad River, a stream that connects with the Congaree River at the point where Columbia was established some fifteen years later. It is interesting to note that the present-day Congaree National Park, a preserved wilderness area that may be the spot to which Peter Dancer and the Hertel brothers escaped in 1750, lies only seventeen miles south of present-day Columbia.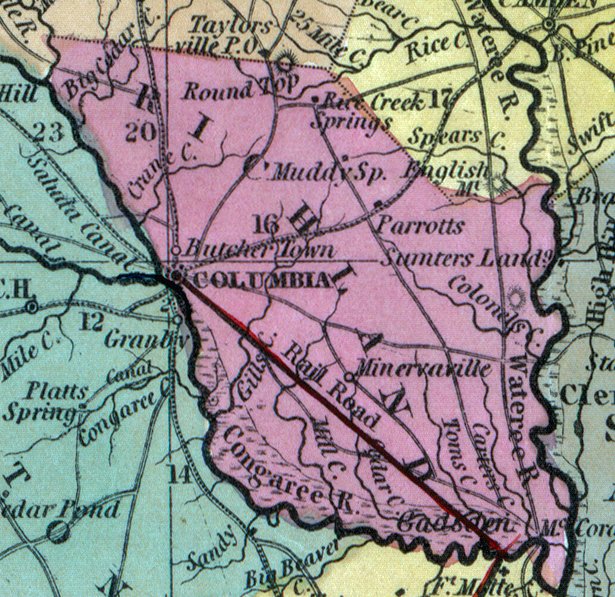 A 19th Century Map of Richland County, SC
Unfortunately, although a plat of this second grant exists, it is difficult to tell, from either the boundary description or the crude map that accompanies it, precisely where this property was located, apart from it being in Richland County," on the north side of the Broad River."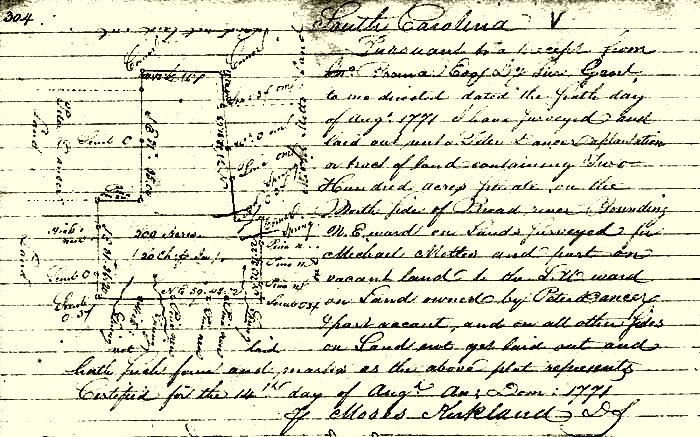 Peter Dancer's 1771 South Carolina land grant
Peter Dancer died sometime in 1789, at the age of about fifty-nine. Although it appears he did not leave a will, probate records for the then-new Richland County show that the job of administering his estate was givne to his son Henry Dancer. An inventory of his property shows that he was not a wealthy man, having only some carpenter's tools, a cow and yearling, and 72 acres of land worth 36 Pounds. He had no slaves. Altogether, the total value of his estate came to 65 Pounds, 19 Shillings, and 5 Pence. What became of the other 228 acres he had received as grants in 1770 and 1771 is unknown, but presumably he had sold it.
The place of burial of Peter Dancer has also, unfortunately, been lost to history.
---
HENRY DANCER
(1760-1826)
Henry Dancer, it appears, was the eldest son of Peter Dancer. His date of birth is unknown, but based what slight evidence is available, it is inferred to be about 1760. He had a brother, John, who appears to have been slightly younger than him.
Our first mention of Henry Dancer, an audited account of "Claims growing out of the American Revolution," is preserved in the South Carolina State Archives. A similar account in the name of John Dancer has also been preserved. These claims arose from both men's service in the militia under Colonel Thomas Taylor-Henry in 1781-82 and John in 1782.
Here is an excerpt from a book about Richland County that gives some history of Taylor's troops in the Revolution:
Under Sumter, he [Taylor] served as a captain from August 5 to November 30, 1780, and as a colonel from December 1, 1780 to July 29, 1782. When Col. Sumter was surprised at Fishing Creek, Taylor was captured and wounded with a sabre after he surrendered, but with his brother John and Joel McLeMore managed to escape as they were being marched to Camden.

Taylor was with Sumter when the post at Granby was invested and at the attack on the post at Thomson's. When Sumter again invested the post at Granby on May 2, 1781, Col. Thomas Taylor was left in command when Sumter moved to attack Fort Motte. Taylor was deprived of the honor of receiving the surrender of the garrison by the arrival of Lt. Col. Henry Lee, who permitted the garrison to retire on terms that were very displeasing to the militia.
In 1790, after Henry's father, Peter Dancer, died, he was appointed administrator of his (Peter's) estate. The first federal census, for 1790, shows Henry living in close proximity to his widowed mother, who is identified in the census only as the "Widow Dancer," with one free white male over age 16 (probably her son John Dancer), one free white male under sixteen (probably John and Henry's reported brother, Jonah or Jonas), three white females (one of which was obviously Mrs. Dancer), and two "All Other Persons." There were no slaves in this household. Henry Dancer's household, which is listed on the very next line, consisted of two free white males over 16, one of which was obviously Henry, two free white males under 16, three white females, and two "All Other Persons." There were no slaves in this household either. In both cases, the "All Other Persons" are a mystery, but could have been, and probably were, free blacks.
Henry's wife was Sally or Lotty Lottie. The date and place of their marriage is unknown but was almost certainly South Carolina sometime in the last 1780s or early 1790s. According to other researchers, they had the following named children:
Ashall Dancer, born about 1792, in South Carolina; married Mary Ward; died in Gillespie County, Texas in 1849
Henry Dancer, Jr., born about 1796 in Tennessee
Elijah William Dancer, born in Smith County, Tennessee about 1797; married three times (first wife name unknown, second Margarite Dinkins, third, Emoline Higgins); died between 1860 and 1870 in McNairy County, Tennessee
Samuel Dancer, born about 1798 in Tennessee; married Nancy Barnes on March 23, 1823 in Stewart County, Tennessee; second wife, Lucinda McDaniel; died about 1883
James Dancer, born about 1802 in Smith County, Tennessee
Jonas F. Dancer, born about 1804 in Smith County, Tennessee; killed by Indians in Llano County, Texas, May 23, 1859
Thomas Dancer, born about 1806 in Smith County, Tennessee
Again, according to other researchers, sometime between 1790 and 1796, Henry Dancer and his family moved to Smith County, Tennessee. According to other researchers, Henry died in Henry County, Tennessee in 1825 or 1826. Unfortunately, there is neither a will nor estate file on record to confirm it. Nor is he enumerated in the 1800, 1810, or 1820 federal census for any county in Tennessee. His place of burial is unknown.
---
ELIJAH WILLIAM DANCER
(Abt. 1797-Bef. 1870)
According to other researchers, Elijah William Dancer was the third child of Henry Dancer and his wife Sally, or Lottie. He was born about 1797, reportedly in Smith County, Tennessee.
Reportedly, Elijah was married three times. The name of his first wife is unknown. His second wife was either Margaret Barnes or Margarite Dinkins. The name of his third wife was Emoline Higgins. By his first or second wife (or both), he had the following named children:
John Dancer, born 1825 in Tennessee; married Francis E. Combs
First Name Unknown Dancer (female), born about 1827 in Tennessee
Eliza Jane Dancer, born December 2, 1828 in Alcorn County, Mississippi; married Samuel Mitchel McLaughlin
Sally Dancer, born about 1831 in Humphreys County, Tennessee
William Walter Dancer, born June 29, 1833 in Humphreys County, Tennessee; married Narcissa Brown on February 17, 1853; died April 4, 1906
Elisha C. Dancer, born about 1836 in Tennessee; married Jemina Frances Wardlow
Elijah William Dancer, Jr., born 1838; married a woman named Piety
Maria Elizabeth Dancer, born about 1843 in Lee County, Mississippi; married Daniel Pitts Seay; died 1875
Susan M. Dancer, born about 1844
Henry Parker Dancer, born about 1847; died 1923
Apparently, Elijah Dancer was a restless man. In 1830 he was living in Humphreys County, Tennessee, in 1840 in Tippah County, Mississippi, and in 1850 and 1860 in McNairy County, Tennessee (which is located immediately north of and adjacent to Tippah County, Mississippi). He was not enumerated in the 1870 census, so presumably he died sometime between 1860 and 1870. It appears he did not leave a will and there likewise appears to be no probate record of his estate. He is reportedly buried in an unmarked grave in Ramer Cemetery, in rural McNairy County.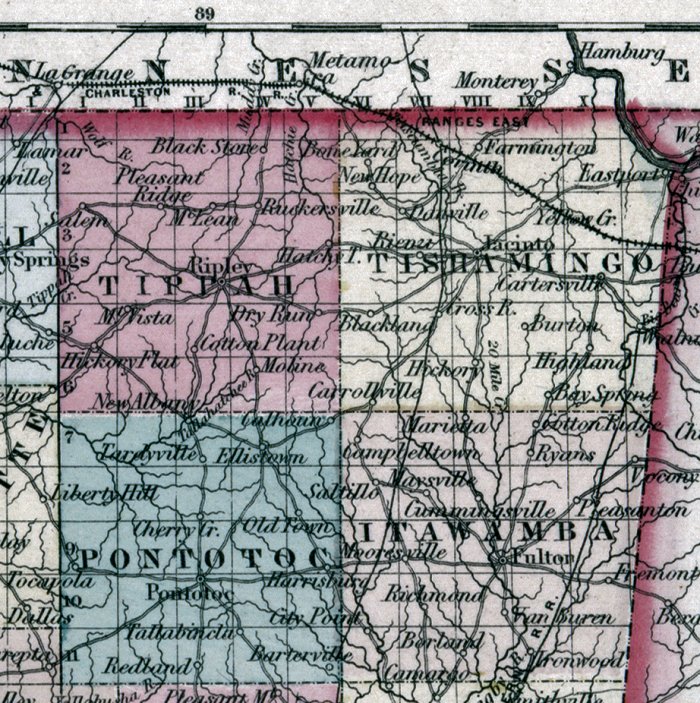 Map of Northern Mississippi, showing the proximity to Tennessee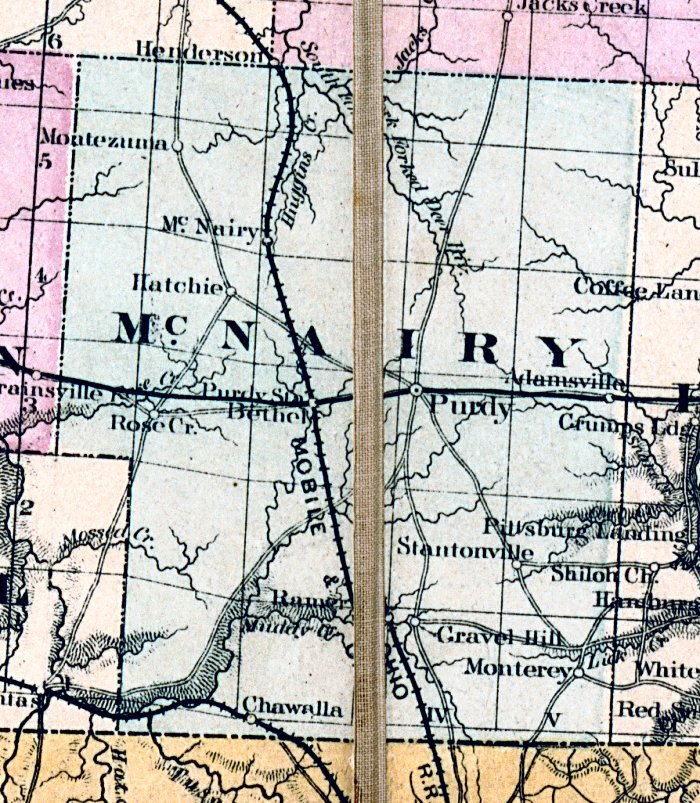 McNairy County, Tennessee
---
MARIA ELIZABETH DANCER
(Abt. 1843-1875)
Maria Elizabeth Dancer, born about 1843 in Mississippi (probably in Tippah County), was the eighth child of Elijah William Dancer and probably his second wife, Margaret Barnes or Margarite Dinkins. In 1869 or 1870, probably in McNairy County, Tennessee, she married Daniel Pitts Seay, a young Confederate veteran of the then-recently-ended Civil War. Together, Maria and Daniel had one child, a boy they named Matthew Elijah Seay, obviously in honor of Daniel's father Matthew A. Seay and Maria's father Elijah W. Dancer.
Maria died in Lee County, Mississippi on January 5, 1875. According to family lore, she was cared for in her final illness by a young friend, fifteen-year-old Martha Knowles, who she encouraged her husband to have as his second wife following her (Maria's) death. He did.
Maria Dancer Seay's place of burial is unknown.
---
---
This website copyright © 1996-2019 by Steven R. Butler, Ph.D. All rights reserved.