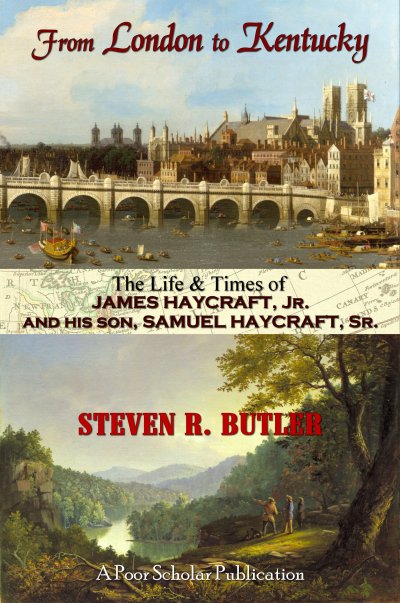 During the colonial era, English courts sentenced tens of thousands of petty criminals to "transportation" to the colonies in North America. From London to Kentucky is the true story of one of those convicts, a London chimney-sweep named James Haycraft, Jr. who after being apprehended for committing a burglary, soon found himself first in London's notorious Newgate Prison and then, after a brief trial, in chains aboard a ship bound for Virginia. There, after serving out his seven-year sentence, James was married and started a family. Learn more by watching this informative video recording.
The story continues with the experiences of his son, Samuel Haycraft, Sr., who after serving on the frontier during the American War for Independence, became one of the founders of Hardin County, Kentucky, an employer of Abraham Lincoln's father, a sheriff, and a respected Kentucky state legislator.
STEVEN R. BUTLER, an Associate Professor of History at Collin College in Plano, Texas and also Richland College in Dallas, has been researching his family's history since 1971. In 1999, he made the startling discovery that a transported English convict named James Haycraft, Jr. was his sixth great-grandfather and that he is also descended from James' son, Samuel Haycraft, Sr. To learn more about his ancestors, Butler not only conducted extensive documentary research but also traveled to Kentucky, western Pennsylvania, Virginia, and London, England, where the story begins. A prolific writer of books and articles, mostly about history, Butler earned his M.A. and Ph.D. at the University of Texas at Arlington.