The Owen[s] Family
By Steven R. Butler. Ph.D.
---
The Owen[s] Family
William Owen[s] | Thomas Owen[s] | Madison C. Owen[s]
---
The Butler and Owen (or Owens) families are related by virtue of the 1878 marriage of Virginia Alice Owen, daughter of Madison and Lucy Ann Owen (later Lucy Ann Babb), to William O. Butler, son of Alfred and Mary Butler.
In some records the name is found spelled Owens but it appears to me that Owen is the correct spelling for this particular family. Because the name is a common one among the people of Wales, it seems safe to assume that the earliest members of this family originated from that part of Great Britain. The roots of this particular branch of the Owen family in America are uncertain but the evidence uncovered to date suggests a presence pre-dating the American Revolution.
---
William Owen[s]
(b. 1741-d. 1808)
William Owen, son of John Owen, was born March 28, 1741, in Conewago, York County, Pennsylvania. On April 25, 1764, he was married to Mary Swan, daughter of Alexander Swan, at Hanover, York County, Pennsylvania. Federal census records for 1790 and 1800 reveal that he later lived in either Rowan County or Caswell County, North Carolina--the same counties in which members of the Swan (or Swann) family were also enumerated.
William Owen may have been a veteran of the Revolutionary War. The widow of a man named William Owen, who served as a private from North Carolina during the Revolutionary War, later received a federal pension on account of her husband's service. But because her name was Sally, it is unlikely she was married to the same William Owen from who the Butlers are descended. Other records reveal that the heirs of a man named William Owens, a private, deceased, received a military land warrant for 640 acres of land. Again, it's uncertain whether or not he was the same individual to who the Butler family is related.
Unfortunately, most of what is known with certainty about William Owen is revealed in his will, dated February 15, 1808 in Smith County, Tennessee. It was proven in county court during June of the same year. It's possible the document was drawn up while Owen lay on his deathbed. How sad it is that one of the last acts of his life provided the only certain record of his existence! Yet Owen's will reveals little about himself. It is most valuable in providing the names of his heirs, along with information about the form and value of his estate.
William Owen was survived by his wife Mary Owen and seven children (three sons and four daughters), as well as at least one grandchild. Not surprisingly, he left the bulk of his property to his wife, giving to each of his sons a horse and to each daughter the sum of two dollars. The bulk of Owen's property took the form of household goods and farming tools.
William Owen's sons were:
Sam Swan Owen
Alexander Owen
Thomas Owen
Because Sam was named, along with his mother, as an executor of his father's will, it's likely he was the eldest son. Each daughter is listed in Owen's will by her married name:
Martha Barnhill
Mary Froman
Sarah Paul
Rebecca Goodruth
The names of their husbands are not mentioned in the will.
A grandson, Thomas Swan, is the only other relative named in the will, suggesting that there may have been a fifth daughter who died, leaving her child to be raised by her parents.
Formed from land originally claimed by North Carolina, Tennessee had entered the Union in 1796. Smith County was established three years later, in 1799, made up of land originally belonging to Sumner County. Like the county out of which it was carved, Smith was much larger than it is today, over the years yielding up land for the formation of other counties. It was named for General Daniel Smith, former secretary of the "Territory of the United States South of the Ohio". Most of the county's first settlers came from North Carolina and Virginia.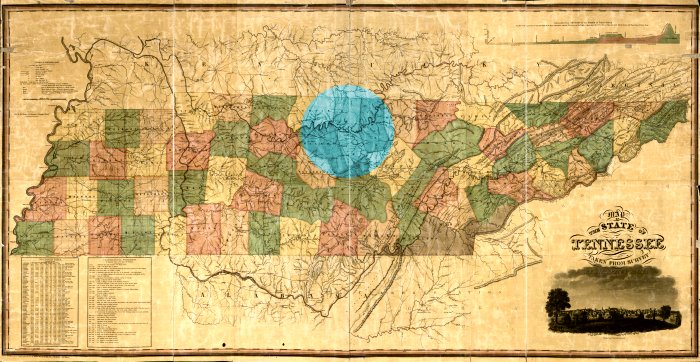 1832 map of Tennessee showing location of Smith County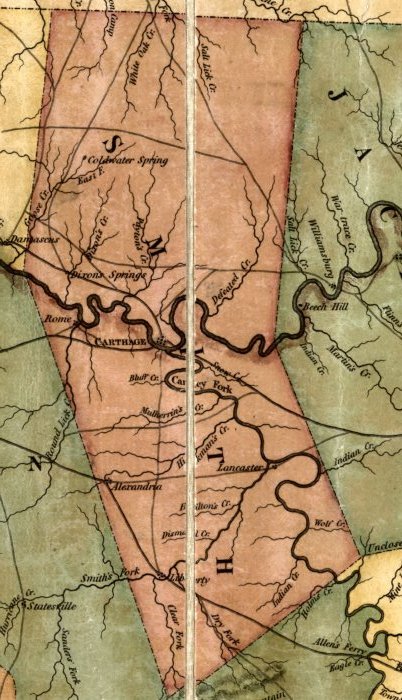 Detail of 1832 map of Tennessee showing Smith County
---
Thomas Owen[s]
(c. 1790-Bef. 1850)
Thomas Owen, a son of William and Mary Owen (probably their youngest), was born in Tennessee (probably Smith County) sometime between 1790 and 1800. Practically nothing is known of his early life. At least one source (The Bioghraphical and Historical Memoirs of Southern Arkansas, p.,714) states he served in the War of 1812 but gives no details. Unfortunately, there were so many men named Thomas Owen or Owens who served in the War of 1812 that it is difficult to tell which one was our Thomas Owen(s).
About 1821 or 1822, Thomas Owen was married to Martha Annison or Anneson (Source: Biographical Souvenir of Texas, pp. 648), who was born in Tennessee about 1809. At the time of their marriage, Martha was about thirteen or fourteen years old and Thomas was in his mid-twenties. The young couple wasted no time in starting a family. Over the next twenty years Martha gave birth to thirteen children. Most of them survived childhood, a remarkable achievement for an era in which infant mortality rates were much higher than today.
Their first child, Madison C. Owen, was born in Tennessee (probably in Smith County), on November 26, 1822. No doubt he was named in honor of James Madison, who had been President of the United States during the War of 1812.
The other children of Thomas and Martha Owen were:
William, born abt. 1830 (married Martha T. Walsh)
Sally Ann, born between 1825 and 1830 (married first to William Chandler and afterward to Louis Hurston)
John, also born between 1825 and 1830
Thomas, born about 1830
Frances, born about 1830 (married to Oliver Cromwell Terrell; moved to Texas)
Samuel A, born September 3, 1833 (married to ; moved to Texas)
Hezekiah G., born about 1836
Gabriel, born about 1839
Susan, born about 1840
George L., born about 1841
James, born about 1843 (died in 1865)
Somner or Sumner, born about 1844 (married to John O'Neill who died during the Civil War, and then in 1865 to Charles McFadden or McFaddin)
(Thomas and Frances may have been twins. With the exception of Somner, all the Owen children were born in Tennessee, probably in Smith County, and only George is known to have died young -- sometime before 1850.
(Source: Biographical Souvenir of Texas, pp. 648-9 and various U.S. census records).
The family remained in Smith County, Tennessee for many years but in 1842 Thomas and Martha Owen, together with all or most of their children, migrated to Arkansas. There, they settled in either Clark or Bradley County, in the area which three years later was formed into Dallas County. Like the county of the same name in Texas, it was named for U.S. President James K Polk's vice-president, George Mifflin Dallas. There, as in Tennessee, Thomas Owen made his living as a farmer. During the War with Mexico, Owen's eldest son Madison was a participant, probably working as a civilian teamster for the U.S. Army Quartermaster Corps.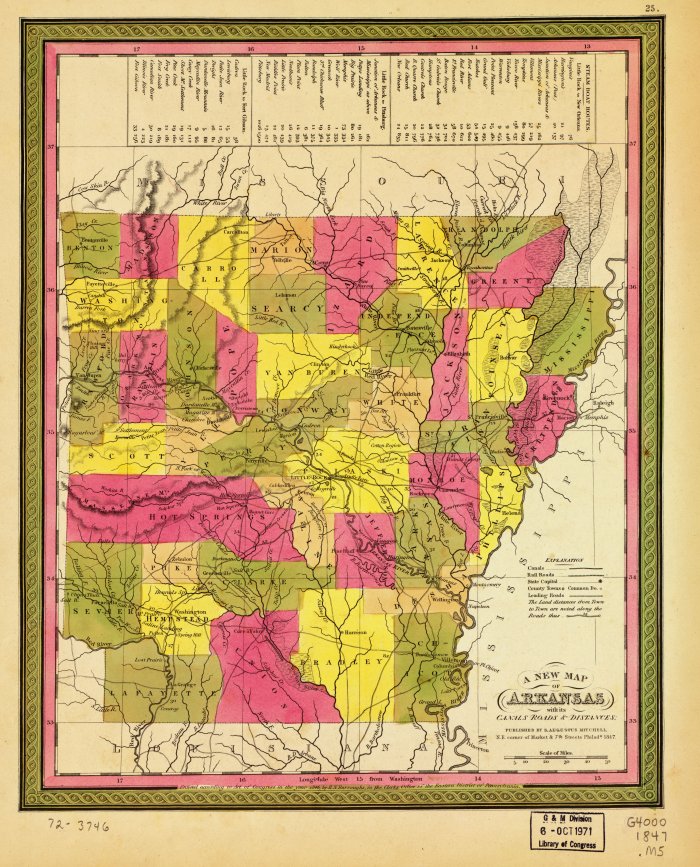 Map of Arkansas, at about the time the Owen[s] family arrived.
Thomas Owen died at the age of forty-seven, probably in Dallas County, Arkansas in 1844. It is not known where he was buried. In 1860, his widow was still living in Dallas County, Arkansas. In 1862, she married a widower, John McFadden (or McFaddin), who passed away about 1869. It is not known when Martha died but owing to her absence in the 1870 federal census, it seems likely that she died sometime between 1862 and 1869. It is not known where either she or her second husband are buried.
During the Civil War, at least two of Martha Owen's sons participated. In 1861, Samuel Owen enlisted in Company D, 12th Arkansas Regiment, "in which he served to the end of the war...with the exception of a short service in the Sixth Arkansas Infantry." James Owen also served but sadly, while on his way home after Lee's surrender, he "was killed by some guards at a small town in Kentucky." After the War, Samuel Owen came to Texas. He settled first in Bowie County, later moving to Grayson County where he was a farmer.
---
Madison C. Owen[s]
(1822-1852)
Madison C. Owen, the eldest son of Thomas and Martha Owen of Smith County, Tennessee, was born on November 26, 1822. No doubt he was named in honor of James Madison, who had been President of the United States during the War of 1812.
In 1846, when Madison C. Owen was twenty-three years old, the United States and Mexico went to war. Unlike many young men, particularly in the South and West, Owen did not immediately rush to enlist. Instead, it appears that his budding relationship with a seventeen-year-old red-haired girl named Lucy Ann Stanley kept him at home. That fall, on October 15th, 1846, the young couple was wed in Dallas County, Arkansas.
Lucy Ann was the eldest daughter and one of the many children of Thomas and Elizabeth Stanley, natives of North Carolina and Virginia, respectively. Both Lucy Ann and her sister Mary had also been born back East.
The remainder of their brothers and sisters had come into the world in either Tennessee, Mississippi, or Arkansas - all the states where the Stanley family had lived during their slow but steady migration westward.
Extracts from a diary Madison C. Owen is said to have kept confirms he was present in central Mexico during late 1847 and early 1848 but no evidence of military service can be found in official records. Based on what little evidence is available, I am now convinced that Owen was one of the hundreds of civilian teamsters hired by the Army Quartermaster Corps during the Mexican War to drive supply wagons between Vera Cruz, on the coast, and Mexico City, in the interior.
Unfortunately, we do not know when he departed for Mexico, except that it was sometime between March 1847, when General Winfield Scott began the invasion of Central Mexico and October of that same year, by which time Owen was in Mexico City.
On September 14, 1847, Scott's army captured Mexico City. By October, the Americans were settling in for what became a lengthy period of occupation. In his diary entries for that month, Owen wrote of paying a dollar for dinner at a Mexico City restaurant and of attending the horse races and bullfights. These were only a few of the popular diversions. In The Story of The Mexican War, author Robert Selph Henry writes, "…there was a tremendous interest in seeing the sights... The soldiers enjoyed the afternoon promenades on the Alameda and the paseos...They went to the theaters and to the American circus...And of course they went to the bull fights, where most of them sided with, or even applauded, the bulls."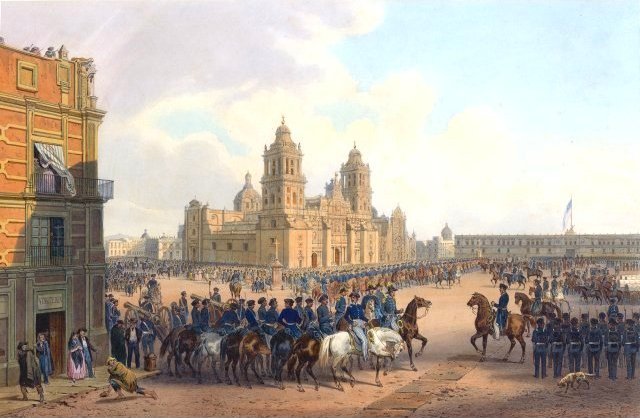 Entry of the American army into Mexico City, 1847.
On October 21st, Owen wrote that he was beginning the second book "of my travels from N-Orleans to the City of Mexico, and information of occurances [sic] while in the City." His next entry noted ominously "Last night about 10 O'clock there [sic] was one of our men stabed [sic] in fore [sic] places by a Mexican cab driver." Unfortunately, it appears this was a common occurrence. Says Henry, "...nocturnal assassinations and reprisals were painfully common. The bodies of as many as nine Americans, most of them knifed, were found on one morning." On October 23rd, Owen recorded another unfortunate incident: "Last night there was $60,000 stolen from Capt. Allen quarter master of the United States Army. He was moving the money from the custom house to his office in a Mexican cab."
Sunday, the 24th, he noted, was a rainy day, "the first in some time." By November I, 1847 writes Mexican War historian K. Jack Bauer, "the road to EI Pinon [had dried] sufficiently to permit the first train for Vera Cruz to pass" and on that date, young Madison Owen wrote, "we left the City of Mexico for Verrecruse [sic] with 600 wagons the strength of the escort I have not asitained [sic] yet. And tonight we lay [on?] at Gen Twigs's [General David E. Twiggs] old camp." According to Bauer, the train actually numbered 400 wagons, accompanied by a 350 man escort commanded by Colonel William S. Harney. "It was the first east bound train since before the army had departed Puebla over two months earlier," writes Bauer, "and carried many of the wounded from the fighting before the city." However, a contemporary newspaper article (see below) from the Newark Advertiser confirms that the train did consist of 600 wagons.

On November 12th, Owen wrote: We came through the pass of Sanch Gorden [presumably Cerro Gordo] today and lay tonight at Plandelrio [Plan del Rio] where the Mexicans has blown up the bridges as we went up at first." The young man also noted: "Cashus [Cassius] M. Clay's health is fine since leaving the City of Mexico.
Clay, a Captain from Kentucky, had originally been attached to Zachary Taylor's forces in the Northern Mexico campaigns. He had been captured and held prisoner by the Mexicans for several months.
On November 15, two weeks after leaving Mexico City, the wagon train reached Vera Cruz. On the 21st, Owen wrote: "This after-noon about 3 O'clock left Verricruse [sic] on board the Steam Ship "New Orleans" for N. Orleans. " A report published in the New Orleans Picayune confirms that the steamer New Orleans departed Vera Cruz on November 21, that it carried "350 discharged quarter master's men" (of which Owen was almost certainly one), and that it stopped for 24 hours at Tampico (November 22-23), arriving at New Orleans on Sunday, November 28.

Owen stayed in New Orleans for four days, departing for home on a steamboat on Thursday, December 2. It is presumed that he traveled up the Mississippi River by steamboat and then up the Ouachita River to Ouachita City, Union Parish, Louisiana. From there, he probably traveled the remaining 122 miles to Dallas County, Arkansas on horseback or by horse-drawn wagon or stagecoach. The last entry we have for his "Day Book" records this last portion of the journey and his arrival back home: "Left N.-Orleans Dec 2nd Ran aground 4th Left the Washita [Ouachita] City 7th. Got home on the 10th of December." At home, Madison Owen was doubtless greeted with joy by his young wife Lucy Ann and for the first time he saw his infant daughter, Jane, who had been born during his absence, on August 21, 1847.
Sometime during the early part of the Twentieth century, retired architect Arthur Babb, a son of Owen's wife by her second marriage, as he called it, transcribed a portion of Owen's Mexican War diary, or "Day Book". Babb inherited the book following the 1919 death of his mother, Lucy Ann. Unfortunately, the diary itself has since been "lost" and the extract is all that's left. On March 10, 1849, Lucy Ann gave birth to another daughter. She was named Virginia Alice Owen. At the time, the Owen family was probably living at or near the Dallas County community of Tulip - where the 1850 federal census taker found them.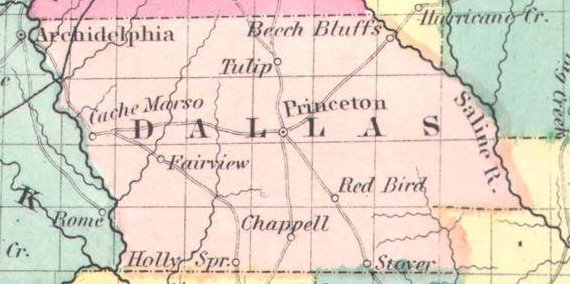 Detail of a an 1859 map of Arkansas, showing Dallas County.
After the Mexican War, Madison Owen returned to the everyday routine of civilian life. In 1846 he purchased two town lots (nos. 4 and 5 in block 2) in Princeton, which had recently been designated the seat of Dallas County (see map below). There, from all appearances, he ran some sort of business in partnership with his brother-in-law Oliver Cromwell Terrill (husband of Frances Owen). He and Terrill also jointly owned 40 acres of land in the southern part of the county where they may have grown cotton with the aid of the five male slaves the 1850 federal census reveals that he owned.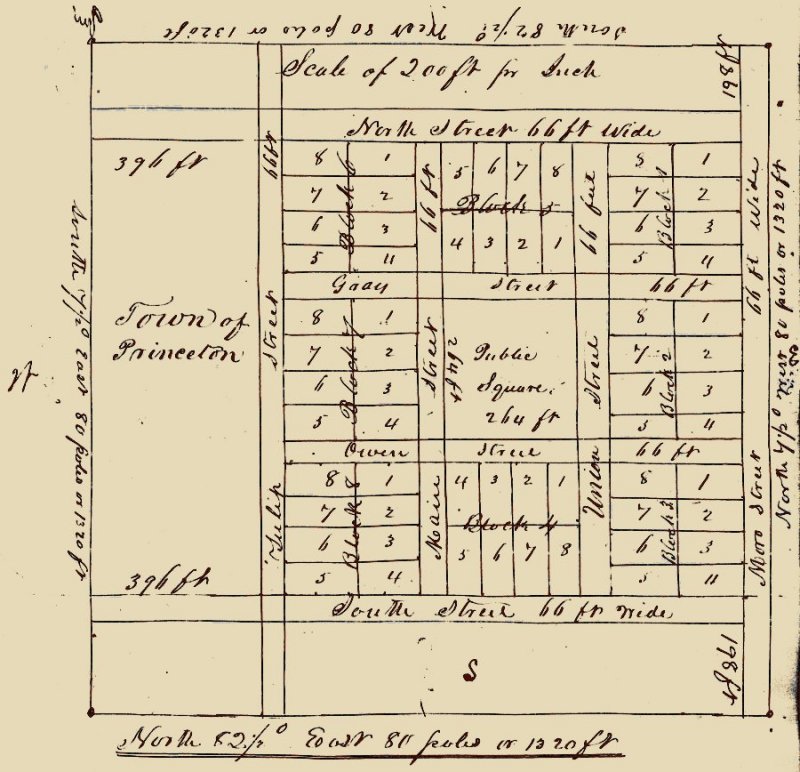 1846 plat of the town of Princeton, Dallas, County, Arkansas
A third daughter was born to Lucy Ann Owen on Christmas Eve, 1851. The infant was named Endora. Sadly, Madison Owen did not live to see his daughters grow up. He died, of unknown causes, at the age of twenty-nine, on June 23, 1852, at or near Princeton, the seat of Dallas County, Arkansas. His place of burial is not recorded in any existing family records or any known public records.
No known portrait of Madison Owen is known to exist but it is said he was five feet, seven or eight inches tall, with a light complexion, light brown hair and blue eyes.
EPILOGUE
A year following the death of her husband, Owens' widow removed to Texas where her parents and other family members had migrated during the summer of 1852. There, Lucy Ann remarried and began a new family with her second husband, Isaac Louis Babb, who she reportedly married on October 18, 1853 in Cherokee County, Texas.
Sadly, of Madison Owen's three daughters, only one, Virginia Alice, lived to adulthood. Endora, it appears, died sometime before 1860, probably in Anderson County, Texas. In 1865, Jane Owen died in Fairfield, Freestone County, Texas during a chicken-pox or smallpox epidemic.
However, although she married Will Butler in 1878 and began a family, Virginia Owen, like her father, did not live to see her children grown. She died at the age of forty-four in Denison, Texas, the victim of consumption (tuberculosis). In contrast, her mother, Lucy Ann, lived to be eighty-nine.
In 1883, Lucy Ann left her second husband, who was reportedly a heavy drinker, and went to live with a married daughter, Ella, and her husband, Charles Heason, in Denison, Grayson County, Texas. In 1885, upon receiving an inheritance from the estate of an uncle in Tennessee, Lucy Ann bought a farm near Denison. She lived there until 1893, when her property was seized and sold at auction to satisfy back taxes of $4.22.
Afterward, she went back to living in Denison with Ella and Charles Heason. Briefly, during the early 1900s, Lucy Ann and the Heasons lived in Dallas but returned to Denison before 1910. After her daughter and son-in-law both died, Lucy Ann went to live with another married daughter, Josephine Babb Walker, in Bremond, Robertson County, Texas. There, she died on Christmas Day 1919. She is buried in the Bremond city cemetery.
---
---
This website copyright © 1996-2018 by Steven R. Butler, Ph.D. All rights reserved.