William O. Butler
(1856-1910)
By Steven R. Butler, Ph.D.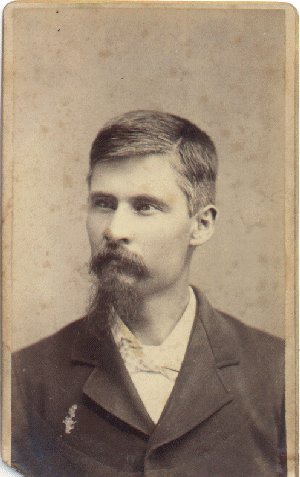 William Oscar Butler, the second son of Alfred and Mary F. Butler, was born in May 1856 at or near Fairfield, Texas -- the seat of Freestone County --- where he grew up on a farm his parents bought that very same month. In 1860, when Will was four years old, his father died, leaving Mary Butler to raise her children single-handedly.
Will Butler had two brothers and two sisters: Mollie, born 1850 in Arkansas; James, born 1852 in Louisiana; Endora, born about 1858 at Fairfield; and Andrew, born at Fairfield in January 1860, six months before his father died.
In 1873, when Will Butler was seventeen years old, his mother was forced to sell the family farm in order to pay mounting debts. The family's whereabouts during the five years immediately afterwards is something of a mystery. Did they remain on the farm as tenants, paying rent to the new owner? Or did they leave Freestone County right away? No one knows. Regardless, by 1878 Mary Butler and her children, with the exception of Will, had moved away from Fairfield -- first to Huntsville, then to Bryan, Texas -- the seat of Brazos County.
On February 1, 1878, in Fairfield, Will Butler, age twenty-one, married his cousin Virginia Alice Owen. Seven years older than her husband, Virginia was the second daughter of Will's Aunt Lucy Ann Babb, by her marriage to the late Madison C. Owen.
Virginia Alice Owen, or "Sister Alice" as her half-brother Arthur Babb called her, was born on March 10, 1849 in Dallas County, Arkansas -- probably at or near Princeton, the county seat. She and Will had more in common than grandparents (Thomas and Elizabeth Stanley). Both had fathers who were veterans of the Mexican War and both their fathers had died at an early age. But unlike Mary Butler, Virginia Alice's mother had remarried -- only a year after the death of her first husband. As a result, Virginia Alice had several half-brothers and half-sisters, all of whom bore the surname of her step-father, Isaac Louis Babb.
Virginia Alice also had two sisters who, like her, were the product of Lucy Ann's marriage to Madison Owen. Their names were Jane and Endora. Jane, a little older than Alice, died in 1865 during a chickenpox epidemic. It appears that Endora, the youngest of the Owen girls, also died young.
On August 11, 1880, at or near Fairfield, Virginia Alice gave birth to her first child, a boy who was given the name Herman Hardin Butler. Sometime during the next two years, the family moved to Mexia, in neighboring Limestone County. As a result of this move, Herman Butler grew up lacking any memory of Fairfield and might also have believed that his birthplace was Mexia.
During 1880 (and possibly earlier), Will and Virginia Alice provided a home for Will's mildly-retarded twenty-year old brother, Andrew. Later, probably after they moved to Mexia, Andrew went to live with his mother and his brother James in Bryan.
Although Will Butler apparently never owned any property of his own, during the first ten years of his marriage, he was a farmer, tilling the land in return for a share of its produce. This system of "sharecropping" was common in the South during the years following the Civil War. In return for the right to live on and cultivate a piece of land, the tenant farmer paid the land owner not with money but with a share of the crops raised. The system appeared to be beneficial in that it gave the poor and landless, particularly ex-slaves, an opportunity to become somewhat self-sufficient. The reality was a never-ending cycle of debt -- and the hope that the tenant would someday be able to buy the land that he tilled was a myth. Very few ever did. Worse, because the land owner usually decided which cash crop would be grown, most often cotton, the land wore out quickly. Thus, as the years went by, the crop became less and less bountiful. And because the sharecropper also had to provide all his own implements (in addition to the necessities of life for his family), he frequently went into debt, buying on account at some nearby general store (often, one owned by the land-owner). Because the crop produced in any given year often went to pay the previous year's debt, the poor tenant farmer rarely, if ever, got ahead.
The 1880 federal agricultural census for Freestone County reveals that Will Butler's efforts at farming were modest. That year the value of his farm implements came to $30 and the value of his livestock, $75. The total value of his produce for 1879 was estimated at $175. As of June 1, 1880 he had on hand 1 horse, 2 milch cows, 2 "other cattle," 2 swine, 20 barnyard chickens (which produced only 25 eggs in 1879), and 70 "other poultry." During 1879 he had planted 15 acres in "Indian corn" and 25 acres in cotton. The former produced 75 bushels and the latter, 3 bales.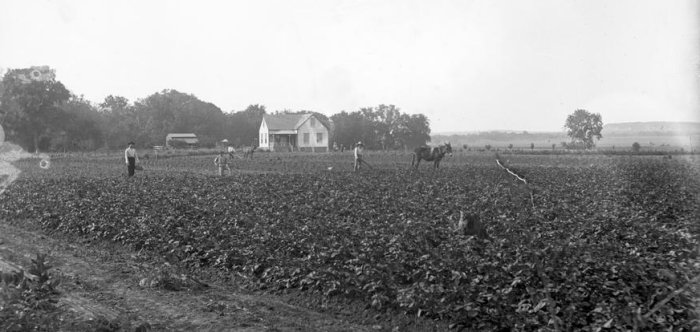 This cotton farm may be similar in appearance to the one on which the W. O. Butler family lived and worked near Mexia, Texas.
Mexia, the town near where the Butlers resettled in the early 1880's, is located about twenty miles west of Fairfield. There, on a farm probably not unlike the one they left behind, two more children were born, both girls: Lucy Ozelle Butler, born October 26, 1882; and Lillian Butler, born March 27, 1885.
About 1882, Will's Aunt Lucy left her husband (reportedly a heavy drinker), and went to Denison to live with her daughter Ella and son-in-law Charles Heason - an English immigrant employed by the Missouri, Kansas and Texas Railroad. Consequently, Arthur Babb, Alice's half-brother, and a half-sister, Ione Babb, moved in with Will and Virginia Alice Butler.
In later life, Arthur Babb recorded in his memoirs glimpses of the family's life during this period. He recalled that his mother had an uncle, L. E. Stanley of LaGrange, Tennessee, who died and left her the bulk of his estate (possibly as much as $4,000). But other relatives contested the will. It was 1885 before Lucy finally received her inheritance. Afterward, she wrote to Will, Alice and Arthur, asking them to visit her in Denison. Wanting to buy a small farm, she desired their help in selecting some suitable property. It's likely she also sent them money for the train fare.
Of all the family, Arthur was probably the most excited about the trip. He had not seen his mother, whom he loved very much, for quite some time. The prospect of visiting her, not to mention the train trip from Mexia to Denison, was something he looked forward to with eager anticipation. Years later he wrote:
The crops had just been layed by, "laying by" means giving the last plowing...But we had quite a bit of preperation to make, we must find someone to milk the cows, feed the chickens, and care for the place in general untill we returned...A week getting ready seemed a long time to me, and the thrill of antisipation [sic] was beyond description.
It appears the journey was made during the second week of July 1885. On the appointed day, the whole family rose early and were taken to the train depot in Mexia in a wagon or buggy driven by Wallis McFall, a neighbor. There, they boarded a northbound Houston and Texas Central train, which left late, much to Arthur's dismay. The first stop was Wortham, next Richland, then Corsicana -- where, at the time, Will's mother Mary, along with his brother James, were living.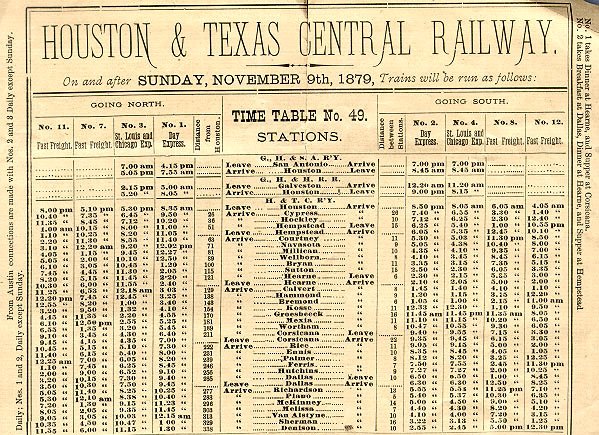 Houston and Texas Central Railroad schedule
Arthur later recalled an amusing incident which occurred at Corsicana:
When the porter announced, "Cor-si-can-na! 15 minutes for breakfast!"...I promptly alighted and walked into the lunch room; but was a little nervous and sit near the door where I could keep an eye on the train; I had just placed my order and [was] glancing round [when I] saw the train pulling out. I grabbed my hat and made a brake [sic] for the door.
In a panic, Arthur ran for the train while platform bystanders cheered him on. Panting hard, he clambered aboard just as the train abruptly halted. Next, to Arthur's chagrin, it began backing into the station. Momentarily puzzled, he soon realized that the train had been moved up the track only to attach additional cars. Embarrassed and wary, Arthur stayed aboard at every other stop. Besides, "Sister Alice" had brought along food for the journey, a "shoe-box full of fride chicken and bisquit and a paper sack of tea cakes."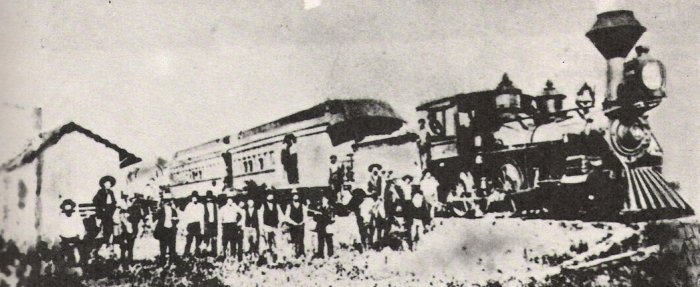 Houston and Texas Central train stopped at the Corsicana depot, where Arthur Babb made a fool of himself!
Arriving in Denison after dark, the little group -- Arthur, Will, Virginia Alice and the three children -- were no doubt met at the station by Lucy Babb and Charlie and Ella Heason.
Arthur Babb, and no doubt Will and Virginia Alice too, found Denison quite large by comparison with the few other towns they had seen, "with its wide streets and the style and manner of people and things." Located just south of the Red River, the boundary between Texas and Indian Territory (present-day Oklahoma), Denison was, Arthur wrote years later, "a great trading point for the Indians at that time, they had been paid by the Government a short time before and they came in town in great bunches to spend their money and get whiskey." The saloons, Arthur pointed out, "were not supposed to sell to Indians but there was `bootlegging'." Arthur also noted the markets in town where "there were Deer, Turkey, Bear, Wild Ducks and Geese...Quail and Rabbits" in plentiful quantity for sale.
Accompanied and advised by Charlie Heason and Will Butler, Lucy Ann was taken on several buggy rides around the county by eager real estate salesmen. Finally, she found a farm to her liking. Located about 2½ miles northwest of Denison, it consisted of eighty acres, sixty of which were for sale - ironically, as a result of a divorce. Thirty acres of the sixty were in cultivation, the remainder in pasture. A stream called Shawnee Creek flowed through the property.
The farmhouse was located atop a steep hill which Charlie Heason jokingly dubbed "Pike's Peak" -- a name that stuck. The price of $800 was paid on August 3rd to the seller, a Mr. Moses A. Rogers and his soon-to-be former wife, Sarah (Mrs. Rogers was to remain on the twenty unsold acres). In his memoirs, Arthur Babb described the place:
There was a little creeke [sic] that wound round the foot of a hill upon which the house set cuting [sic] it of from the field, with some trees and quit [sic] a bit of underbrush along the banks; the creeke [sic] was fed by small springs that ran most all the year; and it was upon a whole quite a picturesk [sic] little place. The hill was so steep on the north and west sides we called it "Pike's Peak." The house was small but fairly good and warm. The barn was very good too...
After a visit of three weeks, Arthur and the Butlers left Denison, returning home to the farm near Mexia. But that fall, after Arthur had helped Will harvest the crops, he made preparations to move to the "Pike's Peak" farm at Denison. Leaving on horseback the day after Christmas, Arthur rode north, through mud, rain and sleet, arriving at his mother's new home on New Year's Eve 1885.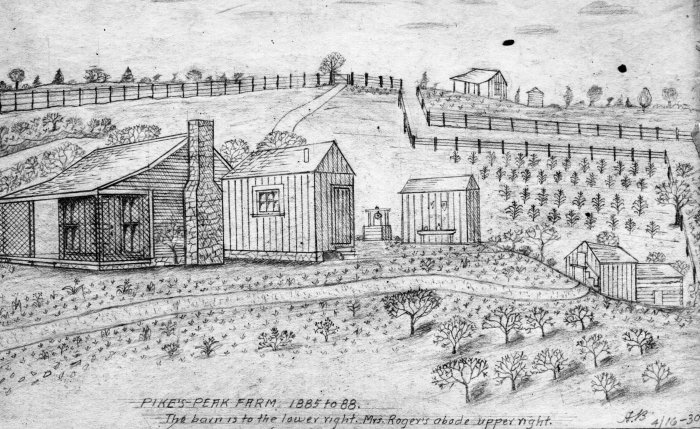 Lucy Ann Babb's Pike's Peak farm near Denison, Texas; by Arthur Babb.
During the next two years, Will and Virginia Alice and their children continued to live at Mexia but about 1888 they too moved to Denison. By this time, Will's mother, Mary, along with his brother James and family, had moved from Bryan and were now residing in Corsicana. Why Will and Virginia Alice chose to live in Denison rather than move the shorter distance to Corsicana to be near Will's family is unknown, except that Virginia Alice, like her half-brother Arthur, must have been very close to her mother, more so than Will was to his.
Denison was still a relatively new place when Will and Virginia Alice Butler and their family went to live there. Founded only sixteen years earlier, in 1872, the town was named for George Denison, a vice-president of the Missouri, Kansas and Texas Railroad. Indeed, the town owed its growth, not to mention its very existence, to the M-K-T railroad - known affectionately as the "Katy." Not surprisingly, a large number of Denison's citizens were railroad employees -- including Ella Babb's husband Charlie. Charlie was a section foreman for the M-K-T. Whether or not Will Butler also found employment with the "Katy" is unknown. However, after the move to Denison it appears he abandoned sharecropping to take up his father's trade, carpentry, as a way of making a living. In all likelihood, he was a railroad carpenter, constructing roundhouses, storage sheds and depots. He might also have worked for local contractors as a house carpenter.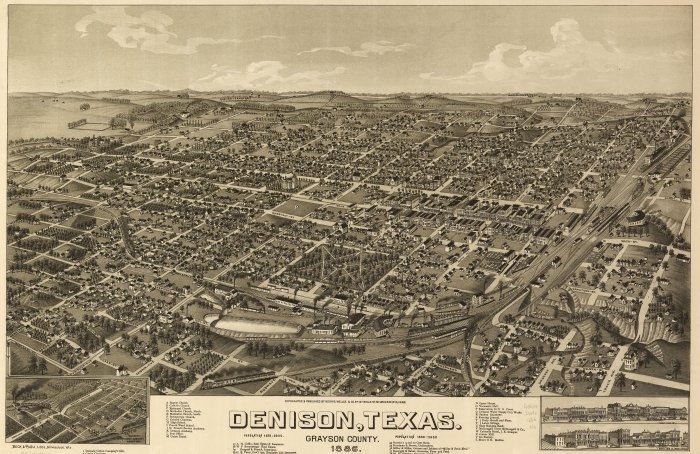 Denison, Texas, 1886--just two years before the W. O. Butler family moved there.
One thing is certain: During the years they lived in Denison, the Butlers apparently never owned any property. (There are no deed records for Will Butler on file in the Grayson County courthouse in Sherman.) It appears that all the homes they occupied were rented and that they moved with some degree of frequency - although never more than a few streets away from a previous residence. Probably their very first home in Dension, from 1889 to 1890, was 814 West Morton Street -- a house which is still standing. While they may have moved there as early as 1888, it's also possible they initially stayed at Lucy Babb's farm.
The children, Herman, Ozelle and Lillian, were about nine, six and three, respectively, at the time of the move to Denison. It can be assumed they were happy children at this time in their lives, playing on the tree-lined streets of Denison or visiting their grandmother's farm just outside of town. Like most grandmothers, Lucy probably "spoiled" them. Lillian, it is certain, was especially fond of "Grandma Babb", as the children must have called her. Being the "baby" of the family, Lillian was no doubt singled out for attention.
Where the children were educated is unknown but it's likely the Washington School in the center of Denison was the school they attended. Certainly, one thing the town did not lack for was good schools. The Washington School was one of the oldest. It was originally called the Educational Institute. A two-story brick edifice with a three-story tower, built in the Victorian style of the day, it was constructed in 1873 and opened for classes the following year. The name was changed to the Washington School later on and the building remained standing until 1914. After it was demolished, Denison High School was built on the site. Other early Denison schools include the Sam Houston School (1886), the Lamar School (1890), and the Raynal School (1891). The Raynal School was named for a Dension saloon-keeper who willed his estate to the public school system.
Between 1890 and 1892 the Butlers lived at 702 N. Houston Street, at the corner of Houston and Johnson Streets.
Around this time, another family came to live in Denison -- a family whose residence would one day be preserved as a historic site in the town. Their name was Eisenhower and they had come to Denison from Kansas because of Mr. Eisenhower's employment with the railroad. They lived in southeast Denison in a little frame house along the Katy tracks. It was there on October 14th, 1890 that Mrs. Eisenhower gave birth to a son who was named Dwight David. The infant, as everyone knows, grew up to become an army officer who went to greater fame as Supreme Commander of the allied troops during World War II and later, as President of the United States from 1953 to 1960. It's not hard to imagine Virginia Alice Butler, children in tow, walking along the sidewalk on Main Street in Denison in late 1890 or early 1891 passing Mrs. Eisenhower pushing her baby in a perambulator. Perhaps the two women stopped to talk (although there's no evidence they knew one another) and Virginia Alice, as mothers will do, might have tickled the baby under the chin and remarked to its own mother about what a nice-looking child he was. (The Eisenhowers moved back to Kansas in 1891 and "Ike", as he was later known, was a grown man before he discovered he had been born in Texas. Years later he returned to his birthplace and was warmly received by the citizens of Denison.)
By 1892 the Butler family had moved again, this time to 1009 West Bond Street. There, they remained for about five years. Unfortunately, it was while they were living there that a sad event occurred. Virginia Alice Butler suffered from consumption, the same disease which may have killed Will's father. On Sunday, March 13th, 1892, a local newspaper, The Sunday Gazetteer ran the following item:
Mrs. Butler, wife of W.O. Butler residing at 1009 W. Bond Street, died Wednesday morning of consumption. Ceremonies attendant upon the burial of the remains were held Thursday evening. Interment at Oakwood Cemetery.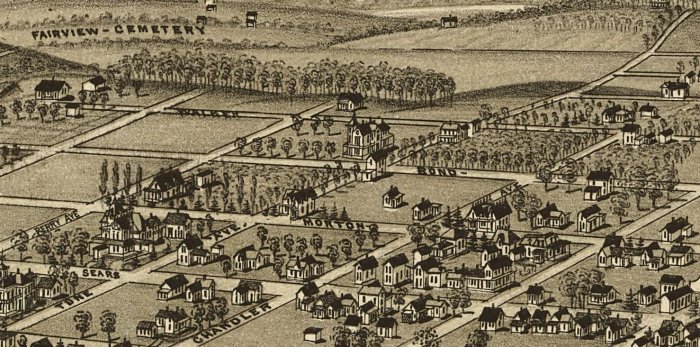 This close-up of the map above shows the neighborhood in which the W. O. Butler was residing when Virginia Alice Butler died.
Virginia Alice Butler was laid to rest in an unmarked grave only one day after she died, on what would have been her 43rd birthday -- March 10, 1892. Her death was no doubt a tragic and untimely loss for her family. Will Butler was then thirty-five (about the same age at which his father had died) and, like his mother some thirty years earlier, found himself not only without a spouse but with small children to raise alone. Fortunately, Will had family living nearby. Lucy Babb, in particular, may have been of great help to him in looking after his children while he worked. But Lucy, as it turned out, had some problems of her own.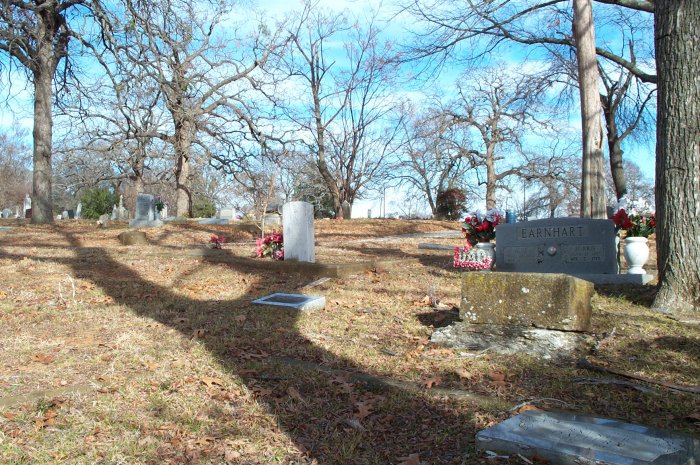 Oakwood Cemetery, Denison, Texas, where Virginia Alice Butler is buried in an unmarked grave.
Arthur Babb had grown frustrated in his struggle to run his mother's little farm almost single-handedly. His brother Hugh, who also lived there, was initially too young to be of much help. To supplement the family's income, during the late 1880's, Arthur found occasional work in town for the Houston ∓mp;mp; Texas Central as a railroad carpenter (perhaps he and Will worked together). This was in addition to putting in crops on his mother's farm. By 1889, he decided to leave it altogether, despite the deep feelings he had for Lucy.
A few years later, Lucy Babb fell into arrears with her property taxes for 1893. The amount owed, $3.72, was small, even for those days. Regardless, under the law, the county tax collector was permitted to seize Lucy's farm and put it up for auction to satisfy the overdue amount. In March 1894 that is exactly what was done. As a result, Lucy's farm was sold to a Mr. W. R. Brents, who paid the back taxes owed plus $4.50 costs -- a total of $8.22. In return, Brents received the deed to the "Pike's Peak" farm and Lucy was forced to move in with her daughter Ella Heason.
Remarkably, none of Lucy's relatives came to her aid -- which seems incredible to me in light of their alleged affection for her. Further, considering circumstances, namely that the actual value of the property was much greater than the amount paid for it, as well as Lucy's advanced age, the action taken by the county was nothing short of cruel and insensitive - even given that it was technically legal for them to do what they did. And to say that Mr. Brent, with the aid of the Grayson County tax collector, as much as stole an old lady's farm, would not be out of place.
The last house in which Will Butler and his children resided in Denison was at 1112 Main Street, to where they moved in 1897 or 1898.
About 1899 the whole family then living in Denison -- not just Will and his children, but also Lucy Babb and the Heasons -- went to live in Dallas.
The reason for the move is unknown. In all likelihood, it was job-related. Perhaps employment with one of the railroads required both Will and Charlie Heason to relocate, at least temporarily. The Heasons, along with Lucy Babb, eventually returned to Denison, before 1910. The Butlers remained in Dallas.
Turn-of-the-century Dallas was a much smaller place than it is today but even then it was considered a big city. Since its founding in 1841 it had enjoyed an incredible rate of growth, rapidly outstripping in population and importance many older Texas cities and towns. In 1890 Dallas had been the largest city in Texas, temporarily taking the title away from Galveston. By 1900 it slipped to third place -- behind San Antonio and Houston, but could still boast an increase in population from 38,067 in 1890 to 42,639 in 1900.
Dallas was a city where progress and growth were the goals of seemingly all its citizens. In Dallas: An Illustrated History, author Darwin Payne writes:
Already the volume of business in the Dallas post office reflected a level of activity found in a city of 100,000 rather than 42,000; and if the year 1900 was a harbinger of times to come, the greatest growth lay ahead. The year had seen 291 frame residences erected at a cost of $259,071, forty brick and stone structures built at a cost of $233,075, the streetcar system extended on Harwood Street and Washington Avenue, two electric interurban lines projected between Dallas and Ft. Worth, formal recognition by Congress of the feasibility of navigation on the Trinity River, the beginning of construction of a new public library and the building of 12,800 feet of new street.
Dallas in 1900 consisted in large part of what is now the downtown business district. At that time there were still several private residences mixed in with the commercial buildings clustered along Main, Elm, and Commerce Streets -- which then, as now, were the principal thoroughfares. The federal census of 1900 found Will Butler and his two daughters living at 231 Crockett Street, probably their first residence in Dallas. Today the site of that house is covered by the Morton H. Meyerson Symphony Hall, in what is now Dallas' Arts District.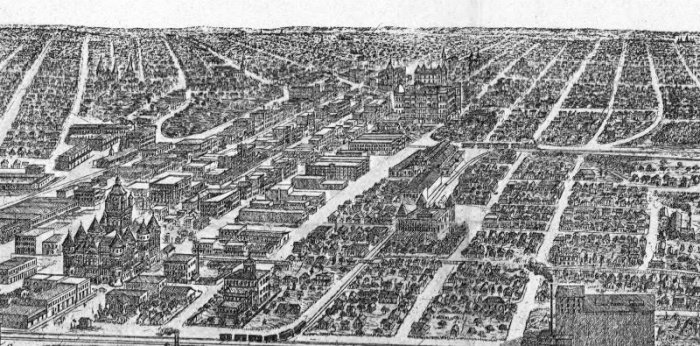 Dallas, Texas, 1892, just a few years before Will Butler and his family arrived.
For a while, Herman struck out on his own, living apart from his father and sisters at 250 McKinney Avenue - between Harwood and Phelps (now Olive). The 1900 census recorded that Herman was then twenty years old, that he could read and write, and that he worked as a laborer in a livery stable. At the time, horses were still seen in large numbers on the streets of Dallas - and would be for a few more years yet to come. Although the automobile had been invented by that time, it would be another decade and a half before the motor car would supplant the horse as the primary mode of transportation.
Ozelle Butler, when speaking of her childhood, said that her father was extremely strict. Family lore also alleges that during the family's first years in Dallas that Will Butler was either a heavy drinker or that he suffered from some form of mental or physical illness - or both. If true, it seems hardly surprising considering the cards life had dealt him. The tragic loss of his father at an early age, the later loss of his wife - combined with the struggle to make a living during hard times (in economic terms, the 1890's were not the "Gay Nineties") may have all been contributing factors to any such condition. Ozelle and Lillian may have been the only people in Will Butler's life over which he felt he had any control. He therefore exercised it. Unfortunately, his authoritarian ways seem to have been the very thing which drove his daughters away from home and into early marriages - both, in different ways, with unfortunate results.
The first to leave home was Ozelle who was married in 1900 to Clarence DeValket Storey -- a Spanish-American War veteran from East Texas. Clarence, with whom Ozelle had several children, later became a bigamist. For a time, he kept two families simultaneously but eventually, he left Ozelle altogether, forcing her to raise her children alone.
In terms of financial security and social standing, Lillian fared much better than her older sister. An attractive young girl, Lillian somehow caught the eye of a middle-aged bachelor named Henry Garrett. Garrett, a graduate of Tennessee's Sewanee University, has been described as something of an electrical genius. Later called "Dad" Garrett, Henry also had an interest in automobiles and became the first automobile dealer in Dallas. He was also the son of Episcopal Archbishop Alexander C. Garrett, who in contrast to Lillian's father, was everything Will Butler was not. A prominent member of Dallas society, the Bishop and his family were highly respected members of the community. Regrettably, it can be said that Will Butler's position on the social ladder of the early 1900's was probably only a rung or two from the very bottom.
It appears that the Bishop and his wife, Letitia, were not overly pleased with Henry's choice of sweethearts. Yet, on May 27, 1902 Alexander C. Garrett himself performed the wedding ceremony for Henry and Lillian at the Garrett residence in East Dallas. Doubtless owing to the background of the bride - or rather the lack of it, the ceremony was kept low key. Probably few guests, if any, were in attendance. (Was Will Butler present? No one knows.) Another factor which may have contributed to the Garretts wishing to keep the affair circumspect were the contrasting ages of the bride and groom. At the time of their marriage Henry was forty-four and Lillian sixteen. Afterwards, the couple left immediately by train for their honeymoon in New York.
In later years, although they remained married, the relationship between Henry and Lillian seems to have soured, the difference in their ages being a major factor. Lillian turned to drinking and may have had extramarital love affairs. She died an untimely death -- the result of an automobile accident near White Rock Lake in Dallas.
As in Denison, Will Butler's habit of moving frequently was repeated in Dallas. Between 1900 and 1910, he resided at no less than seven different addresses in the city, most of them boarding houses. By 1901, he left the Crockett street address. At that time he and his daughter Lillian were rooming at 519 Commerce Street (now number 2107; all Dallas address numbers were changed in 1911), near the intersection of Commerce and S. Pearl Street - not far from the present City Jail. In 1902, after Lillian married and left home, Will's son Herman moved in with him again, with both men listed at 153 N. Akard Street (new number unknown) in the city directory.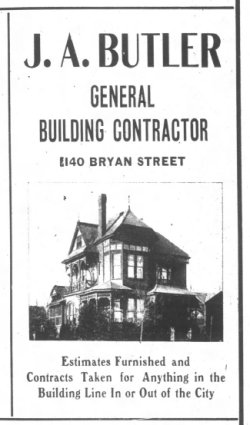 For a brief time in 1904 Will, Herman, and Will's older brother James all boarded together at 140 Bryan Street (new number unknown), located between Ervay and Masten (now St. Paul). At that time James advertised himself in the city directory as a building contractor (although curiously, 140 Bryan was also the home of contractor C.W. Ramsey). Presumably both Will and Herman worked for James. But the arrangement appears to have been short-lived. Later that year, or in 1905, Herman went to work as a mechanic for a bicycle and motorcycle shop on Main Street. The following year he married a pretty twenty-year old girl from Alabama named Alice Tate. Herman's Uncle James left Dallas about the same time.
Family lore maintains that Will Butler, at some point during his years in Dallas, allegedly married a widow named Mrs. Duggan. Mrs. Duggan, so it's said, had three children herself -- two daughters, one of whom was named Lydia, as well as a son who later called himself "King" Duggan when he sold automobiles in Oak Cliff (a section of Dallas south of the Trinity River). Unfortunately, there is no evidence of this alleged marriage. An examination of the Dallas County marriage records for this period reveals that a man named William O. Butler did in fact marry a woman named Kathleen Suggs on January 18, 1899 -- but obviously the bride's name is different. Additionally, there is no proof that this particular man was the same William Butler who had previously resided in Denison. Finally, neither the 1900 or 1910 federal census show Will Butler having a wife. Probably, if Will Butler did remarry, it might have been a common-law arrangement which would account for the lack of a marriage record.
Will continued to work, so far as it is known, as a carpenter throughout this period in his life. It can be said, therefore, that he literally helped to build Dallas. No doubt there may be any number of structures in the city still standing in which he had a hand in constructing. One of the most outstanding is the Cathedral of the Sacred Heart. Built in High Victorian Gothic style on Ross Avenue, at the corner of Pearl, it was completed in 1902. It still stands today and is known as Cathedral Santuario de Guadalupe.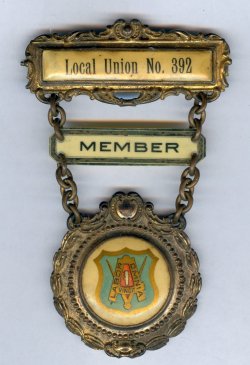 It's possible that during the first decade of the Twentieth century Will Butler may have been hospitalized in a sanitarium for a period of time -- either in connection with his alleged drinking or some illness. In 1906 his address was 162 Crutchfield Street (new number unknown), near City Park -- but the Dallas city directories for 1903, 1905, 1907, and l909 do not list his name or address at all (with the possible exception of the 1905 directory which lists an "Owen" Butler, carpenter, residing at the same address as Herman Butler). Was he in the hospital during those years? Perhaps. That he lived for a period of time with his son Herman and daughter-in-law Alice is certain, and may account for at least some of the later years. In 1908 he was certainly in Dallas, rooming at 487½ Elm Street (new number unknown). It appears that Will also lived with his brother James and their elderly mother in Saratoga, Hardin County, Texas -- located in the heart of the "Big Thicket" -- during these "missing" years. James, like Will, was a widower and by this time his children were also grown. He and his mother, Mary, had moved to Saratoga after oil had been discovered in the area. There, Mary Butler owned two or three rent houses and James may have worked in the oil fields. Perhaps Will did also. Sometime, probably during this period, he joined Local no. 392, a carpenters union headquartered in Beaumont, Texas.
There's no doubt that by early 1910 Will Butler was either living or visiting with his mother and brother James in Saratoga. But later that spring he returned to Dallas (he was counted twice in the Census that year as a result) where he boarded at 220 Gaston Avenue (changed to number 2926 in 1911), at the corner of Oak and Gaston - the home of Abraham Ewing, a building contractor for whom he probably worked. He was also employed that year (or perhaps the previous year) by the Continental Gin Company at 889-933 Elm Street.

Finally, sometime late that spring, under circumstances which are unknown, Will Butler came to be an inmate of the Dallas County Poor Farm in Hutchins, a small rural community south of Dallas. Consisting of 339 acres, the farm had been established in 1877. There, wards of the county -- usually eight to ten indigent families, could find a place to live. It is sad that his life had come to that end. Lonely perhaps, down on his luck, and certainly very ill (perhaps with the same "consumption" that had taken the life of his Alice), William Oscar Butler died there, at the poor farm, at 4:30 P.M. on Saturday, June 18, 1910. He was fifty-four years of age.
Will's body was claimed by his son Herman and his daughter Lillian (Ozelle was then living in Lufkin with her in-laws). It was prepared for burial by the Ed. C. Smith Funeral Chapel in Dallas. There, services were held on Sunday at 2:30 P.M. The following day, Will Butler was laid to rest at Oakland Cemetery in South Dallas. It's likely that Herman, Lillian and possibly Henry Garrett were the only family members present at the burial. Will's daughter-in-law Alice, pregnant with her third child, wasn't feeling well enough to attend. (The child, a grand-daughter Will did not live to see, was born a month later.) Like his wife's, Will Butler's grave was left unmarked. (See "Epilogue" below.)
In retrospect, it could be said that Will Butler's life was one that saw more than its share of sadness and misfortune. His end was particularly tragic. Certainly, as an adult, he may have been responsible for some of his hardships but the untimely deaths of his father and of his wife, both at an early age, were events over which Will had little or no control. Doubtless, the loss of these two people, so important to his well-being, were at the root of Will Butler's troubles and unfortunately for him, society during the time in which he lived displayed little sympathy. If, as a result, he grew morose and took to the bottle for solace, it is hardly surprising. So what can be said to be Will Butler's legacy? Certainly, in terms of money or property, there is none. Yet, even the poorest man can have an effect on the lives of his descendants for generations to come. To this day, nearly a hundred years later, Will Butler's descendants still live in or near Dallas, Texas and that, as meager as it may be, is Will Butler's legacy.
EPILOGUE
In 1994 my son Benjie and I visited Dallas's Oakland Cemetery, where we learned that Will Butler's grave was unmarked. At that time, I made a silent promise to myself at that I would have a marker placed there no later than 2010, the one-hundredth anniversary of his death. I am happy to report that with a little of my own money and financial contributions from my father, Ray Butler, and my cousin Henry O. Butler, Jr., it was a promise kept. On November 28, 2010, a little more than one hundred years and five months after William O. Butler's death, Benjie and I, accompanied by my father, returned to the cemetery to view the newly-erected headstone that honors the life of William O. Butler, who almost certainly never imagined that one hundred years after his death his grandson, great-grandson, and great-great-grandson would all be gathered together at the site of his final resting place to pay their respects to his memory.
| | |
| --- | --- |
| Ray, Benjie, and Steven Butler viewing W. O. Butler marker in 2010. | |
---
---
This website copyright © 1996-2013 by Steven R. Butler, Ph.D. All rights reserved.