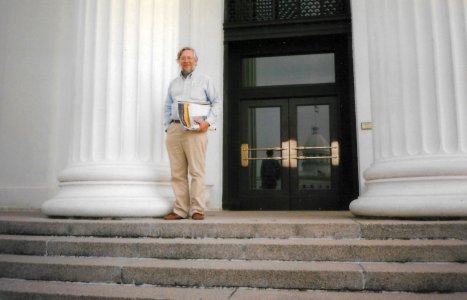 Yours truly, on the steps of the Alabama State Archives building in Montgomery, June 1997.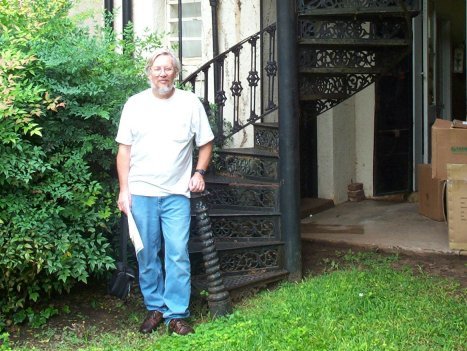 Following in the footsteps of Grand-Uncle Arthur Babb, Natchitoches, Louisiana, 2001.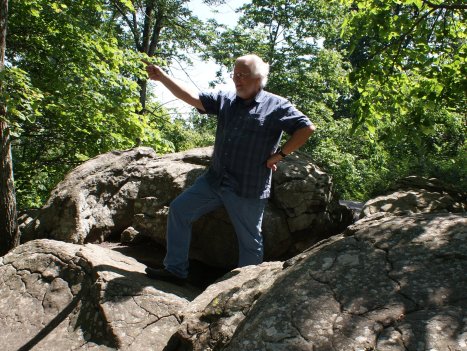 At Big Round, Gettysburg Battlefield (where great-grandfather Isaac Tate fought in 1863), Pennsylvania, 2012.

At the Ritz Theater, built by great-grandfather Matthew E. Seay in 1927, Wellington, Texas, 2018.
From time-to-time I have made journeys away from home (Dallas County, TX) for the express purpose of conducting family history research or visiting places associated with the lives of my ancestors. Sometimes, I have also conducted research or made site visits while on vacation or en route to some other destination. The following pages document these journeys and visits.
1984: Fairfield, Freestone County, TX (while on vacation)
1987: Robertson County, TX (while on vacation)
1993: Rio Grande Valley, TX (while conducting historical research)
1994: Rio Grande Valley, TX (while attending a conference)
1995: Muskogee, OK (while en route to another destination)
1996: Rio Grande Valley, TX (while attending an event)
1997: Rio Grande Valley, TX (while attending an event)
2000: Gettysburg, PA and Kingston, Ulster County, NY (while on vacation)
2001: Union and Dallas counties, Arkansas
2001: Smith and Upshur counties, TX
2001: Natchitoches, LA (while on vacation)
2001: Ennis and Midlothian, Ellis County, TX (Ennis twice)
2001: Paris and other places, Lamar County, TX
2001: Sherman and Denison, Grayson County, TX
2002: Fairfield, Freestone County, TX and Palestine, Anderson County, TX
2003: Nocona, TX (while on vacation)
2003: Vernon, Wilbarger County, TX (while on vacation)
2003: Natchitoches, LA (while attending a meeting)
2004: Muskogee, OK
2004: Multiple places in Mississippi, Alabama, Georgia, and Tennessee
2005: London, England, UK (while on vacation)
2006: Natchitoches, LA (while attending a meeting)
2008: Nocona, TX (while on vacation)
2010: Vernon, Wilbarger County, TX (while on vacation)
2010: Muskogee, OK
2010: Paris and other places, Lamar County, TX
2010: Multiple places in Georgia and South Carolina (while on vacation)
2012: Pittsburgh and Gettysburg, PA and Hardin County, KY (while on vacation)
2014: Denison, Grayson County, TX (five times)
2015: Vernon, Wilbarger County, TX (while on vacation)
2015: London, England, UK (while on vacation)
2015: Ellis, Navarro, and Freestone counties, TX
2015: Sherman, Grayson County, TX
2015: Ennis, Ellis County, TX
2015: Denison, Grayson County, TX
2016: Natchitoches, LA (while on vacation)
2016: London, England, UK (while on vacation)
2017: Paris, Lamar County, TX
2017: Multiple places in Alabama, Georgia, South Carolina, and North Carolina
2017: Monmouthshire, Wales, UK (while on vacation)
2018: San Antonio, TX (while on vacation)
2018: Wellington, TX (while on vacation)