Return to Landmarks of Dallas History or choose another landmark:
---
Lee Park - Arlington House Replica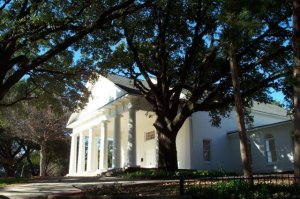 Just a few yards north of a heroic-sized equestrian statue of Confederate General Robert E. Lee stands a smaller-than-actual-size replica of Lee's Arlington, Virginia mansion. Made of brick, with a portico supported by tall white columns, the replica was built in 1939 at a cost of about $30,000.
Trivia buffs may be interested to know that when motion picture director Oliver Stone was filming portions of the movie "JFK" in Dallas in the early 1990s, one of the scenes was shot in Lee Park. When actor Kevin Costner, playing the part of New Orleans district attorney Jim Garrison, was shown visiting President Kennedy's grave in what is supposed to be Arlington National Cemetery, he was actually kneeling on the lawn of the Arlington House replica in Dallas' Lee Park, beside a faux eternal flame.
---
This website copyright © 2006-2011 (except where noted) by Steven Butler, Ph.D. All rights reserved.