Return to Landmarks of Dallas History or choose another landmark:
---
Belo Mansion - Dallas Law Center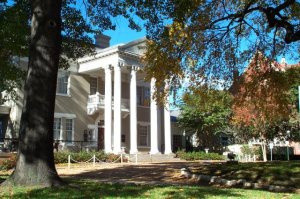 This imposing residence on Ross Avenue was originally the home of Colonel Alfred H. Belo, publisher of The Dallas Morning News and the man for whom the present-day Belo Corporation is named.
During the 1930s the building was used as a funeral home and it was here, in May 1934, that outlaw Clyde Barrow's bullet-riddled body was viewed by thousands of curious Dallasites in an almost carnival-like atmosphere.
Today the building, surrounded by tall shady trees, is in use as the Dallas Law Center.
---
This website copyright © 2006-2011 (except where noted) by Steven Butler, Ph.D. All rights reserved.