Big Tex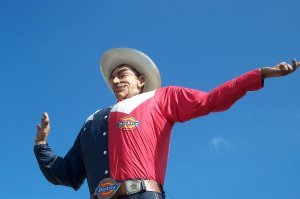 During the run of the annual State Fair, on the raised grassy area just to the north of Grand Place, stands "Big Tex", the world's largest cowboy. Made of paper mache' and chicken wire, with a steel rod interior frame and a backbone made of oil-well pipe, Big Tex was "born" in 1949 in the town of Kerens, Texas. There he served that community as a giant Santa Claus!
Offered to the State Fair in 1951 by the Kerens Chamber of Commerce, Big Tex was purchased for a mere $750. At first, it was intended he continue his role as a huge Christmas ornament but R. L. Thornton, then president of the Fair, had another idea for his bargain. Under the direction of Jack Bridges, a Dallas-artist, the giant man was converted into what he is today and made his debut at the 1952 State Fair.
Originally costing $2,000, Tex's clothing was made by the H. D. Lee Company which volunteered for the job. Tex, who is 52-feet tall wears the largest pair of Lee jeans ever sewn - a size 276, made of fourteen-ounce denim. They took eight women fifty-one hours to make and used up 1,800 yards of reddish-orange thread, 4,900 yards of black thread, and 100 yards of cloth. Tex's zipper measures 66 inches in length. His white hat is a 75 gallon Stetson and his boots are a size 70 - large enough to fit his seven foot, seven inch feet. He gets a new shirt, made of 125 yards of ten-ounce orange twill, every three years. His belt measures 25 feet, 10 inches around his 23-foot waist and is actually made of leather. However, his belt-buckle, weighing 25 pounds, is made of wood. It depicts a Texas longhorn steer. When he's not in use, Tex is dismantled into three pieces and the pieces stored in different places at the park.
In 1953, his second year at the Fair, Tex's jaw was hinged and made to move and a loudspeaker installed inside his mouth. During the run of the State Fair he says "Howdy" an average of 672 times. Over the years, his voice has been supplied by the late WRR Radio Disk Jockey Jim Lowe and three others, including a State Fair talent scout, Don Schafer. At the 2002 State Fair, which also happened to be Big Tex's 50th "Birthday," Bill Bragg became the new voice of Big Tex.
Big Tex is useful, not only as the symbol of the State Fair, but as a place where weary fairgoers arrange to meet each other if they get separated. After all, Tex is not hard to find! "Meet me under Big Tex" is probably one of the most commonly heard phrases during the State Fair.