Return to Landmarks of Dallas History or choose another landmark:
---
Dallas County Criminal Courts Building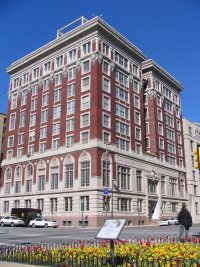 This is one of the most historic buildings in Dallas. Clyde Barrow and Raymond Hamilton were both incarcerated here at one time or another and it was here in 1964 that Jack Ruby was tried for the murder of Lee Harvey Oswald.
Located at Dealey Plaza, directly across Main Street from the "Old Red" Dallas County Courthouse, at the corner of Houston Street, this was one of the last buildings President Kennedy saw before he was assassinated a minute or so after he passed it on Friday, November 22, 1963.
---
This website copyright © 2006-2011 (except where noted) by Steven Butler, Ph.D. All rights reserved.