Return to Landmarks of Dallas History or choose another landmark:
---
Old Dallas High School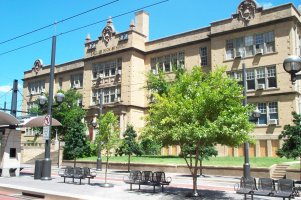 At present the fate of long-abandoned Dallas High School, seen here in a photo taken before the windows were boarded up, is uncertain. While there are some who talk of tearing it down, others advocate its preservation and would rather see it converted into apartments, shops, or office space than have it razed.
The building is located on Bryan Street, at the corner of Live Oak, in the East End of Downtown Dallas. Construction began in 1905 and was completed in 1908. Originally called Dallas High School, it was built to replace Bryan High School, a wooden structure named for Dallas founder John Neeley Bryan, in which classes continued to be held while the new building was under construction. Over the years the school changed names several times. In 1916 it was known as the Main High School; in 1917 it became Bryan Street High School; in 1929 the name was changed to Dallas Technical High School; and in 1942, it became the N. R. Crozier Technical High School or simply "Crozier Tech" as most people called it.
During the 1980s the building had the dubious distinction of being used as one of the sets for the movie "Robocop."
---
This website copyright © 2006-2011 (except where noted) by Steven Butler, Ph.D. All rights reserved.