Return to Landmarks of Dallas History or choose another landmark:
---
Dallas Morning News Building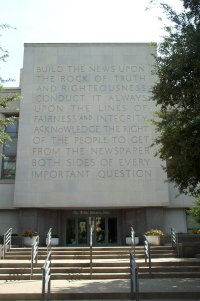 The Dallas Morning News, which began publishing on October 1, 1885, is the oldest daily newspaper in the city. The News is also currently the only major daily in Dallas. Its closest and longest-lived rival, The Dallas Times Herald, went out of business in the early 1990s
This building, located at 508 Young Street, faces Ferris Plaza on its south side. Above the front doors, engraved in large letters, is an admonition from longtime News Vice-President and General Manager George B. Dealey, which reads:
Build the news upon the rock of truth and righteousness. Conduct it always upon the lines of fairness and integrity. Acknowledge the right of the people to get from the newspaper both sides of every important question.
---
This website copyright © 2006-2011 (except where noted) by Steven Butler, Ph.D. All rights reserved.