Fair Park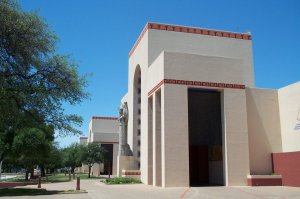 Fair Park, located about two miles east of Downtown Dallas, is one of the oldest public recreation areas in Dallas and home to the annual State Fair of Texas.
From 1886, when the State Fair was founded, until 1904, the fairgrounds were privately owned and operated by the State Fair Association. In 1904 voters approved a proposition whereby the City of Dallas would purchase the grounds, allowing the State Fair Association to use the site once a year in the fall for three weeks. This arrangment continues to the present day.
During the mid-1930s the park's appearance was dramatically altered in preparation for the Texas Centennial Exposition, which opened in June 1936 and ran through November. Several older buildings were given a "facelift" and many new ones were constructed in what was called the "Texanic" style.
Over the years Fair Park has been visited by many famous people, including Presidents, royalty, and a a host of popular entertainers. It has also been the site of several Dallas "firsts," including the first automobile race (1905), the first dirigible flights (1909), and the first air show featuring that new-fangled invention, the airplane (1911).