Return to Landmarks of Dallas History or choose another landmark:
---
Lakewood Theater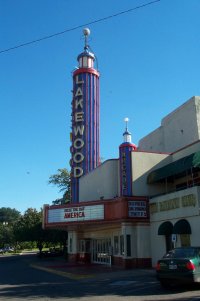 The Lakewood Theater, with its colorful towering name mast, is perhaps the most prominent piece of architecture in the Lakewood Shopping Center, one of Dallas' oldest suburban shopping areas.
Unlike its predecessors in Downtown Dallas, the Lakewood Theater was built primarily to show motion pictures, rather than vaudeville acts or live theater venue. Constructed in 1936, it is decorated upstairs with vintage pictures of Disney cartoon characters.
Today the Lakewood Theater is intermittently used for a variety of purposes, including bingo and film festival events.
(Author's Note: This is one of my personal favorites. As a child, I went to many a Saturday Kid's Matinee here!)
---
This website copyright © 2006-2011 (except where noted) by Steven Butler, Ph.D. All rights reserved.