Robert E. Lee Memorial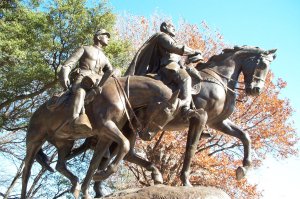 This heroic-sized equestrian statue of Confederate General Robert E. Lee sitting astride his horse Traveller stands in Lee Park, at the corner of Hall Street and Turtle Creek Boulevard in the Oak Lawn section of Dallas, just a short drive north of downtown. Accompanying the general is a young aide, also on horseback, representing all the soldiers who fought under Lee's command. A smaller-than-actual-size replica of Lee's Virginia home, Arlington House, is also located in the park.
Originally, the Dallas Park Board wanted to erect this memorial to the South's most famous soldier in Dealey Plaza, downtown, but other opinions prevailed and it was placed instead in what was then known as Oak Lawn Park. On June 12, 1936, the statue was unveiled by President Franklin D. Roosevelt, following a nationally broadcast radio address before a large crowd in the Cotton Bowl, at the Texas Centennial Exposition in Fair Park.
Seated in the back of an open touring car parked at the monument's base, Roosevelt yanked a long cord that removed a veil, revealing the statue to the public. Built at a cost of $50,000 raised over a period of eight years by the Dallas Southern Memorial Association, the statue was the work of noted sculptor A. Phemister Proctor. The base was designed by Dallas architect Mark Lemmon.
Another memorial commissioned by the Southern Memorial Association is the fountain designed and built by Joe E. Lambert, Jr., located in the lake on Turtle Creek. Not as obvious as Lee's statue immediately across the street, it is meant to be a tribute to all Confederate heroes.