Return to Landmarks of Dallas History or choose another landmark:
---
Old Mercantile Bank Building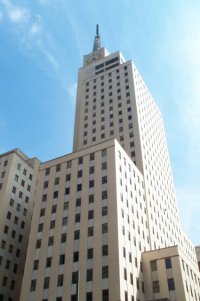 This thirty-three story office building, located at the corner of Main and Ervay streets, was completed in 1943. Designed by architect Donald S. Nelson, it has a concrete frame and a brick and masonry exterior. Its most outstanding features are its decorative spire and a huge clock, which at one time could be seen from just about anywhere in the downtown area.
(A personal note: After leaving high school in the late 1940s, my mother worked for a while as an elevator operator in this building. On one occasion she was tipped a dollar, quite a sum in those day, by oilman H. L. Hunt.)
---
This website copyright © 2006-2011 (except where noted) by Steven Butler, Ph.D. All rights reserved.