Old Municipal Building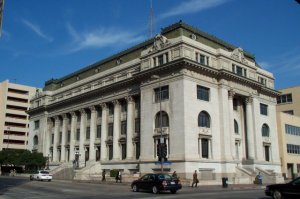 Dallas' former City Hall and Municipal Building, completed in 1914 at a cost of $700,000, is a five story building located on the east side of Harwood Street, between Main and Commerce. Designed by C. D. Hill, a local architectural company, it is made of Indiana limestone and constructed in a classical French Rennaissance style. It was constructed by the Fred A. Jones Company, the same contractor who built the White Rock dam.
For many years the fifth floor of this building was used as the City Jail and it was here that Lee Harvey Oswald, accused assassin of President John F. Kennedy, was held for nearly two days following his arrest. On Sunday, November 24, 1963, as Oswald was about to be tranferred to the County Jail on Houston Street, he was shot and killed by Dallas nightclub owner Jack Ruby in the basement of this building, where there is still a parking garage with ramps leading up on either side to Commerce and Main streets. Almost needless to say, the garage is no longer so easily accessible to the public.