Old City Park/Dallas Heritage Village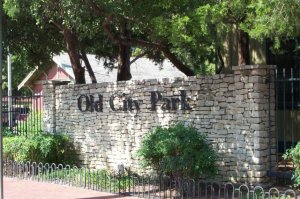 Old City Park/Dallas Heritage Village, or simply "City Park," as it was first known, was the first public park in Dallas and the only park in the city for 28 years! It was established in 1876 after South Dallas landowner J. J. Eakins sold 10 acres of land to the City of Dallas in exchange for $600. (It has often been erroneously reported that Eakins "donated" the land.) The park was originally designed to be an "aesthetic, driving park" where Dallas citizens could drive their carriages, taking in the fresh air and scenery - i.e., a place to see and being seen. Over time, its purposes changed. Among other things, City Park housed Dallas' first zoo.
Here is a timeline of some of the more noteworthy developments that occurred over the years:
1876 - City of Dallas purchases 10 acres of what became City Park from J. J. Eakins. Land not improved until 1881.
1881 - Park boundaries expand after City purchases privately owned Water Supply Company and its property, including 8 and 1/10 acres of land adjacent to park. Price: $65,000. This property includes Browder Springs and pumping equipment. A Park Superintendant hired to care for the property.
1885 - City purchases an additional 3/4 acre lot, adjacent to park, from A. Brownlee for $1,700. Price reflects rapidly rising land values in vicinty of park.
1887 - After death of J. J. Eakins, a proposal to rename the park in his honor is considered and rejected.
Summer 1887 - 5 electric lights erected. Cost: $45 per month, per light, paid to Texas Electric Light & Manufacturing Company.
Spring 1888 - City establishes a zoo in the park after purchasing, for $60, 2 deer and 2 mountain lions from a man in Colorado City, Texas.
1889 - Park got its first recreational equipment; 2 sets of American Patent swings, for $20 each.
September 1890 - $400 spent to build a conservatory or hothouse for plants.
August 1893 - A public toilet added to park at cost of $85.
1896 - City Park zoo animals sold, except for 2 wolves.
June 25, 1896 - Cornerstone for Confederate Monument laid.
1897 - Another greenhouse approved for City Park.
April 27, 1897 - Confederate Monument dedicated. Between 40,000 and 50,000 people attend ceremonies.
Summer 1898 - A structure resembling a pagoda erected in the park. Band concerts, suggested by City Alderman Wolfson take place bi-weekly through September at park bandstand.
1900 - City Council asked to provide a pedestal for "Goddess of Liberty" statue donated to city and erected in park.
1902 - A. Harris & Co. sponsors Sunday afternoon band concerts in the park.
1902 - Another proposal to rename park in honor of J. J. Eakins is rejected.
November 26, 1903 - Fireman Statue dedicated. (It honored Dallas Fireman John Clark, who was fatally injured in a Park Street fire on June 24, 1902.)
1905 - After Fair Park becomes city property, its menagerie of monkeys, bears, deer, antelope, eagles, and other creatures are given to zoo in City Park. Deer became so prolific, some were sold to other city zoos.
May 4, 1906 - City Park gets its first "park policeman" (since 1880s there had only been a night watchman).
1907 - Children allowed to play in Mill Creek bottoms but there was no recreational equipment beyond the swings purchased in 1889. No ball playing allowed. No alcoholic beverages. No "going upon the grass." No concessions. No swimming allowing in Browder Springs reservoir. African-Americans not specifically excluded but they did not use the park "except on special occasions."
1910 - City Park zoo animals (except deer) transferred to Fair Park after new zoo buildings constructed there. (In 1912, zoo was finally transferred to present location in Oak Cliff's Forest Park.)
1933 - Another greenhouse built.
1936 - Park renamed Sullivan Park in honor of city commissioner Dan Sullivan.
1941 - Name changed back to City Park.
1966 - Park loses several acres on northern edge when R. L. Thorton Freeway built. Confederate Monument relocated to site beside Convention Center and Pioneer Cemetery.
1966 - Dallas County Heritage Society formed to save "Millermore," an old Dallas antebellum mansion, and move it to City Park.