"Old Red" Former Dallas County Courthouse
Listed in the National Historic Register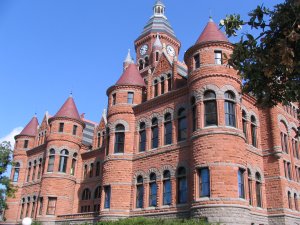 This retired Dallas County courthouse, which stands on Houston Street at Dealey Plaza, flanked by Main and Commerce streets, is known locally as "Old Red." It presently houses a museum of Dallas County history.
Constructed between 1890 and 1893 in the "Victorian Romanesque" style, this eye-catching structure is the sixth county courthouse to stand on the site, which was donated by the city's founder, John Neely Bryan, and his wife Margaret. The first courthouse, a 10-foot square log cabin, was constructed not long after Dallas County was created by an act of the first Texas state legislature on March 30, 1846. After the original cabin burned down in 1848, a second, more substantial version was erected in its place.
In 1857, a modest, red brick building took the place of the second log cabin courthouse. After becoming structurally unsound, it was torn down and in 1871 a new courthouse, made of gray stone, was constructed on the site. This fourth building lasted only nine years, being destroyed by fire in 1880. Architect James Flanders designed its "Second Empire" style replacement, made of locally quarried limestone at a cost of $100,000. After the supposedly fireproof fifth courthouse burned in 1890, it was replaced by the present structure, which was designed by Maximilian A. Orlopp, Jr. and built at a cost of $350,000.

The building, adorned with dragon-like "wyverns," was originally surmounted by a huge clock tower. Legend holds that a black man named Burrell Oates, who was convicted of a murder he claimed not to have committed, declared that if he were hanged, the clock would stop - and it did! When workmen were sent aloft to repair the clock, they discovered that the tower was badly cracked. It was removed in 1919 for the sake of public safety. In 2007 it was rebuilt. The "Old Red" Museum of Dallas County History opened in the building that same year.
This courthouse, unfortunately, was also the scene of one of the more notorious events in Dallas history. On March 3, 1910 an African-American man, Allen Brooks, was on trial for allegedly assaulting a 3-year old white girl, when a frenzied mob of vigilantes managed to fight their way into the second-floor courtroom where the trial was taking place. After tying a rope around Brooks' neck, they tossed him out the courtroom window. It is uncertain whether or not the fall killed him. Afterward, the mob dragged Brooks down Main Street to a decorative archway that had been erected in 1908 for the Elks convention. There, they hanged the unfortunate Brooks (who was probably already dead by that time) from a nearby telephone pole.