Return to Landmarks of Dallas History or choose another landmark:
---
Cathedral Santuario de Guadalupe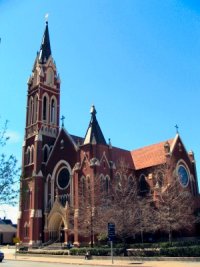 This impressive Roman Catholic cathedral, located at the corner of Pearl and Ross Avenue, was completed in 1902 by the J. Edward Overbeck Company. Built in the High Victorian Gothic style, it was originally known as the Cathedral of the Sacred Heart of Jesus. Today it is called the Cathedral Santuario de Guadalupe.
In 2005 the bell tower that was originally intended to be a part of the design was finally added, more than 100 years after the main structure was completed.
(Author's personal note: My great-grandfather Will Butler, a carpenter by trade, was probably one of the workman who helped construct this building.)
---
This website copyright © 2006-2011 (except where noted) by Steven Butler, Ph.D. All rights reserved.