Union Station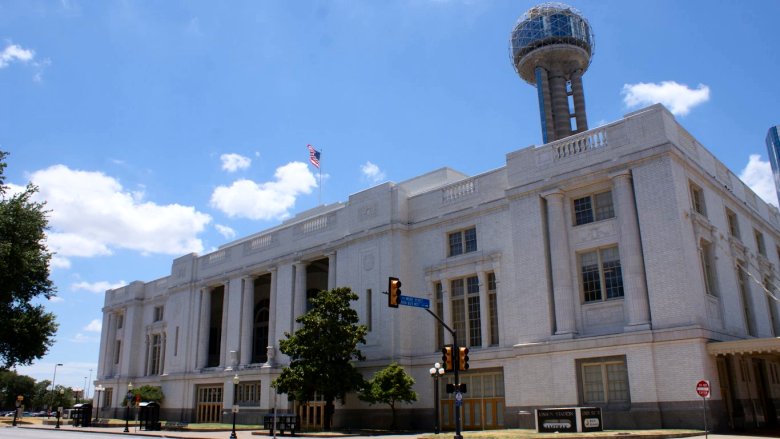 For more than forty years after the railroads first came to Dallas, each of the eight competing rail lines had their own passenger stations in different parts of town. Union Station, constructed at a cost of $1,500,000 between 1914 and 1916, consolidated them into one central terminal designed to handle as many as 50,000 passengers daily.
Built of white enameled brick in the modern classical style, the 282 foot long building was formally dedicated on October 14, 1916 by Texas Governor James E. Ferguson. Three-stories tall, the station is located about two blocks south of Dealey Plaza on Houston Street, between Jackson and Young. Immediately in front of it, across Houston Street, is Ferris Plaza, a small park that once welcomed arriving passengers to "Big D."
In the late 1960s most of the nation's railroads ceased offering passenger service. Since the 1970s Union Station has handled AMTRAK passengers. In the 21st century it is now a stop on the DART light rail line. The Trinity Express, which provides commuter service between downtown Dallas and Fort Worth, also stops here.
TIMELINE OF UNION STATION HISTORY
| | | |
| --- | --- | --- |
| DATE | EVENT | SOURCE |
| June 13, 1909 | The Dallas Morning News reports that the Dallas Chamber of Commerce "has begun the effort to unite the railways...in the project for the erection of a great Union passenger station." | DMN, 6-13-1909 |
| March 10, 1915 | Cornerstone of Dallas Union Station is laid. | DMN, 3-11-1915 |
| May 25, 1916 | A special passenger train carrying officials of the Gulf, Colorado & Santa Fe RR becomes the first to arrive at Union Station. | DMN, 5-26-1916 |
| July 29, 1916 | The Dallas Morning News reports that the Dallas Chamber of Commerce has invited President Woodrow Wilson to the official opening of Union Station. | DMN, 7-29-1916 |
| August 27, 1916 | The Dallas Morning News publishes photos of new Union Station and older Dallas train stations. | DMN, 8-27-1916 |
| September 29, 1916 | The Dallas Morning News reports that the occupants of two Pullman cars on a Texas & Pacific passenger train were robbed while enroute to Dallas' Union Station. | DMN, 9-29-1916 |
| October 8, 1916 | Cotton Belt No. 101, Johnny Linehan, Engineer, becomes the first train "of any line" to officially arrive at Union Station, at 5:50 a.m., on its way from Memphis to Fort Worth. | DMN, 10-09-1916 |
| October 14, 1916 | Union Station is formally dedicated in ceremonies presided over by Dallas Morning News General Manager George B. Dealey and attended by Texas Governor James E. Ferguson. (Although President Woodrow Wilson was also invited, he apparently couldn't come.) | DMN, 10-15-1916 |
| October 15, 1916 | One article in The Dallas Morning News describes Dallas' Union Station "in detail" while another recalls the "history of campaign to get Union Depot." | DMN, 10-15-1916 |
| January 14, 1917 | The Dallas Morning News reports that a new ten-story hotel will be built across the street from Union Station. | DMN, 01-14-1917 |
| April 20, 1917 | The Dallas Morning News reports that a military recruiting office and information bureau "will be opened in Union Station within a few days." | DMN, 04-20-1917 |
| June 15, 1917 | When motion picture star Clara Kimball Young arrives at Union Station she is "greeted by a throng of moving picture enthusiasts." It is reported that Miss Young is "at present prospecting for a suitable location of a studio she expects to construct." | DMN, 06-16-1917 |
| July 30, 1917 | An infant, "which was being brought from Oklahoma to the Dallas Baby Camp," dies "in the hospital ward of the Dallas Union Railroad Station, when it was within two miles of the baby hospital where the parents felt sure the child would be cured." | DMN, 07-31-1917 |
| August 3, 1917 | Officers of the Russian Military Mission to the United States arrive at Union Station and are feted by city officials. | DMN, 08-04-1917 |
| October 11, 1917 | The new ten-story Jefferson Hotel, built opposite Union Station, is formally opened. | DMN, 10-10-1917 |
| October 21, 1917 | The Dallas Morning News reports that Union Station has recently "undergone its first real test in the handling of the vast crowds coming into Dallas to attend the 1917 Texas State Fair." The paper estimates that 45,000 people entered and left the depot in the latest 24-hour period, with 110 trains leaving and arriving. | DMN, 10-21-1917 |
| December 22, 1917 | The Dallas Morning News reports that "hundreds of soldiers on their way home from camp to spend the holidays with relatives...passed through Dallas yesterday." At Union Station, officials said that "hardly an incoming train" arrived that "did not carry a number of khaki-clad men." Interurban cars were likewise crowded with soldiers. | DMN, 12-22-1917 |
| July 30, 1918 | Following a huge parade through downtown Dallas, 500 African-American soldiers depart for camp from Union Station. | DMN, 07-31-1918 |
| August 15, 1918 | The Dallas Morning News announces that the United States Railroad Administration "has taken over the Dallas Union Terminal Station and will operate it hereafter." | DMN, 08-15-1918 |
| September 6, 1918 | The Dallas Morning News reports that "yesterday," more soldiers were served at the Red Cross canteen "than have been served any day since the canteen opened" on August 21. | DMN, 09-06-1918 |
| June 16, 1919 | The first of three troop trains carrying "men of the 345th Artillery and the 345th Machine Gun Battalion of the Ninetieth Division" arrives at Union Station at 10:30 p.m. | DMN, 06-17-1919 |
| February 6, 1920 | General John J. Pershing arrives at Union Station for a brief visit to Dallas. | DMN, 02-07-1920 |
| October 18, 1920 | A handcuffed prisoner, being escorted by the Hopkins County Sheriff, escapes "into the crowd at the Union Terminal." He was still at large on Wednesday. | DMN, 10-20-1920 |
| February 19, 1922 | At Union Station, scores of Dallasites greet motion picture actress Betty Blythe "upon her arrival here to open the automobile show." | DMN, 02-20-1922 |
| December 3, 1922 | Ku Klux Klan Imperial Wizard Hiram Wesley Evans (a former Oak Cliff dentist) is met at Union Station by about fifty friends upon arrival aboard a train that came from Atlanta, Georgia | DMN, 12-04-1922 |
| December 24, 1922 | A two-week old baby boy is abandoned "in the restroom of the Union Terminal Station," along with "a few clothes and a bottle of milk." | DMN, 12-26-1922 |
| February 13, 1927 | The Dallas Morning News runs a feature article about the Information Desk at Union Station. | DMN, 02-13-1927 |
| April 14, 1929 | The Dallas Morning News runs a feature article about confused passengers at Union Station. | DMN, 04-14-1929 |
| March 6, 1930 | Former President Calvin Coolidge and his wife make a brief stop at Union Station while traveling on the KATY Special. The ex-President cannot be persuaded to make a speech. | DMN, 03-107-1930 |
| July 20, 1932 | Democratic Vice-Presidential Nominee John Nance Garner gives a speech at Union Station. | DMN, 07-18-1932 |
| April 1, 1933 | The Dallas Morning News reports an investigation into the apparent looting of the U.S. Mail at Union Station. | DMN, |
| January 19, 1935 | Demolition of the old East Dallas Union Depot, previously used by the Texas & Pacific and Houston & Texas Central railroads, begins. | DMN, 01-20-1935 |
| October 1, 1935 | Article in The Dallas Morning News recalls "civic campaign for Union Terminal" that began in 1895. | DMN, 10-01-1935 |
| January 05, 1936 | 25,00 SMU Mustangs fan jam Union Station to greet returning football team. | DMN, |
| June 12, 1936 | President Franklin D. Roosevelt and First Lady Eleanor Roosevelt arrive at Union Station (at 9:30 a.m.) en route to Texas Centennial Exposition at Fair Park. | DMN, 06-13-1936 |
| October 1, 1936 | "Streamlined train service between Dallas and Houston was inaugurated...when the Burlington-Rock Island Railroad's Sam Houston Zephyr pulled into Union Station on its first scheduled run from Houston." | DMN,10-02-1936 |
| August 22, 1940 | The Dallas Morning News reports that new Zephyr service to Denver is about to commence from Union Station. | DMN, 08-22-1940 |
| November 19 & 25, 1940 | Eighty-four North and Central Texas draftees depart from Union Station for training in San Antonio. A little less than a week later, eighty-one Dallas County draftees are given a "rousing send-off" from the station. | DMN, 11-20-1940 and 11-26-1940 |
| December 3, 1940 | First Lady Eleanor Roosevelt is feted by the Democratic Women's Luncheon Club and others at a small reception at Union Station during a brief stopover | DMN, 12-04-1940 |
| September 5, 1941 | The Navy Blues Sextet, a group of girls who appear in the Warner Brother movie "Navy Blues," are given a warm reception at Union Station. | DMN, 09-05-1941 |
| October 14, 1941 | Twenty-fifth anniversary of Union Station's dedication goes "almost unnoticed." | DMN, 10-13-1941 |
| May 11, 1942 | A "Hollywood Caravan" of twenty-three movie stars arrives at Union Station during a national tour to raise money for the Army Emergency Fund and the Navy Relief Fund. The roster of famous screen actors includes Claudette Colbert, Bob Hope, Oliver Hardy, Bing Crosby, Cary Grant, Olivia DeHavilland, Groucho Marx, Charles Boyer, Merle Oberon, James Cagney, Eleanor Powell, Joan Bennett, Joan Blondell, Bert Lahr, Jerry Colonna, Kenneth Thompson, and Rise Stevens. | DMN, 05-12-1942 |
| May 29, 1942 | Hollywood actress Dorothy Lamour arrives at Union Station during a tour to sell war bonds. | DMN, 05-29-1942 |
| June 5, 1942 | Mr. and Mrs. Masao Yamamoto and their two sons leave Union Station "to start the long journey back to Japan." The family is reportedly the "first Dallas Japanese to be returned to Japan under an agreement between the warring nations by which an equal number of American residents in the Land of the Riseing Sun will be returned to the United States." | DMN, 06-06-1942 |
| August 13, 1942 | "Crudely drawn swastikas and pictures of Hitler" are found drawn "on the walls and columns of the veranda on the second floor of the Union Terminal." The FBI is called in to investigate. | DMN, 08-14-1942 |
| April 2, 1944 | Speaker of the House Sam Rayburn is greeted by "Dallas kin" at Union Station. | DMN, 04-02-1944 |
| September 9, 1944 | Pauline McDermott Collins, the British bride of a Dallas airman is finally united with her husband and his family after first disembarking at Highland Park station and then taking a cab to Union Station where they are waiting. | DMN, 09-10-1944 |
| July 10, 1945 | The Dallas Morning News publishes an editorial complaining about Union Station's "high stairways." | DMN, 07-10-1945 |
| July 13, 1945 | The Dallas Morning News reports that banker R. L. Thornton is a supporter of the idea of putting escalators in Union Station. | DMN, 07-10-1945 |
| September 27, 1948 | During his presidential campaign tour, President Harry S. Truman departs from Union Station following the first non-segregated political rally ever held in Texas, at Rebel Field in Oak Cliff. | DMN, 09-28-1948 |
| Mid-March 1949 | The Dallas Morning News moves into its new building on Young Street, opposite Ferris Plaza and Union Station. | DMN, 3-2-1949, 3-20-1949, and 3-21-1949 |
| September 25, 1952 | The Ringling Brothers, Barnum and Bailey Circus trains arrive at Union Station and begin unloading "and the raising of the big top on the show grounds adjacent to the Union Station parking lot." | DMN, 09-26-1952 |
| October 15, 1952 | While on a campaign tour, former General and Republican presidential nominee Dwight D. Eisenhower walks a half-mile to Union Station after his train breaks down in Trinity River bottoms. At the station, "Ike" gives a short speech before going on to Love Field, where he catches a plane to Shreveport, LA. | DMN, 10-16-1952 |
| July 1, 1953 | The Dallas Public Library begins 18-month lease on space at Union Station while old library is torn down and new one is built. | DMN, 09-26-1952 |
| May 7, 1953 | Movie stars Jackie Coogan and Russell Hayden arrive at Union Station "prior to appearing at 'The World's Greatest Baseball Party' in the Cotton Bowl Friday night." | DMN, 05-07-1953 |
| June 7, 1953 | The Dallas Morning News publishes feature article about Union Station "redcaps" and their experiences dealing with the traveling public. | DMN, 06-07-1953 |
| August 18, 1954 | Hollywood actor Tony Curtis arrives at Union Station. He is in Dallas to promote his movie "The Black Shield of Falworth." | DMN, 08-11 and 08-19-1954 |
| December 5, 1955 | The Santa Fe Railway inaugurates its new "Texas Chief" main line rail service to Chicago from Dallas' Union Station. | DMN, 12-06-1955 |
| July 2, 1956 | Teenage fans mob actress Kim Novak when she arrives at Union Station. She is in Dallas to promote new film, "The Eddy Duchin Story." | DMN, 07-03-1956 |
| April 4, 1957 | A month-old baby boy is abandoned by his mother "in the ladies restroom of the Union Terminal Station." | DMN, 04-05-1957 |
| April 19, 1960 | Rock 'n' Roll star Elvis Presley is greeted by fans at Union Station during a brief stop on a journey from Memphis, Tennessee to Hollywood, California, where he is to make a movie. | DMN, 04-20-1960 |
| January 25, 1966 | Unable to compete with the airlines, which have led passenger revenues to severaly decline, rail officials announce they are seeking to sell Union Station to the Post Office Department. | DMN, 01-26-1966 |
| January 26, 1966 | The Burlington Line's Sam Houston Zephyr service from Dalls to Houston makes its last trip from Union Station, leaving "only 14 daily arrivals and departures of passenger trains." | DMN, 01-26-1966 |
| June 1, 1969 | The Texas & Pacific Railways' "Texas Eagle No. 21" becomes last passenger train to depart Union Station. | DMN, 06-05-1969 |
| August 28, 1970 | It is announced that Freed's Furniture has started leasing Union Station as temporary warehouse. | DMN, 08-28-1970 |
| March 20, 1973 | It is announced the City of Dallas will purchase Union Station "for S5.35 million to develop as a multi-purpose transportation center." | DMN, 03-20-1973 |
| March 14, 1974 | First AMTRAK train arrives at Union Station (Dallas will be a stop on St. Louis to Laredo run); Mayor Wes Wise re-christens station "Dallas Transportion Center." | DMN, 03-15-1974 |
| July 1, 1975 | AMTRAK begins service from Dallas' Union Station to Chicago. | DMN, 06-25-1975 |
| February 25, 1976 | During U.S. Bicentennial, 26-car "Freedom Train" arrives at Union Station before going on to Fair Park for four day stay. | DMN, 02-23-1976 |
| November 15, 1988 | AMTRAK begins Dallas-Houston service from Union Station. | DMN, 11-16-1988 |
| October 14, 1991 | Celebrations are held to mark Union Station's 75th year. | DMN, 10-15-1991 |
| September 10, 1995 | AMTRAK ceases Dallas-Houston service from Union Station. | DMN, 09-10-1995 |
| June 14, 1996 | First DART (Dallas Area Rapid Transit) light rail trains begin using Union Station. | DMN, 06-15-1996 |
| December 20, 1996 | First TRE (Trinity Railway Express) train arrives at Union Station from Irving. | DMN, 12-31-1996 |
| December 3, 2001 | TRE (Trinity Railway Express) train service extended from Union Station to Fort Worth. | DMN, 12-04-2001 |