Return to Landmarks of Dallas History or choose another landmark:
---
Wilson House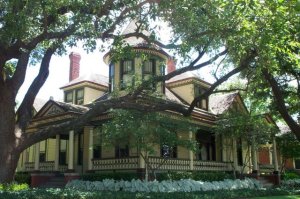 This Victorian home, one of the last of its kind in Dallas, was built about 1900. It was formerly the residence of Dallas cattle dealer Frederick P. Wilson. Located on the corner of Swiss Avenue and Oak Street in Old East Dallas, it is undoubtedly the most impressive structure on a street of restored Victorian residences collectively known as the Wilson Block.
Today, the Wilson House and its neighbors are owned by the Meadows Foundation, which has its offices across the street. Each of the former homes are today used to house the offices of a variety of other non-profit organizations.
Across Oak Street from the Wilson House is Central Square, a charmingly landscraped miniature park that features an old-fashioned gazebo.
(Personal Note: During the late 19th and early 20th centuries, my grandmother grew up within sight of the Wilson house, in a more modest residence on Floyd Street.)
---
This website copyright © 2006-2011 (except where noted) by Steven Butler, Ph.D. All rights reserved.