A Tour of Historic Dealey Plaza
<-Go Back] [Return to Index] [Go Forward->
Old Dallas County Criminal Courts Building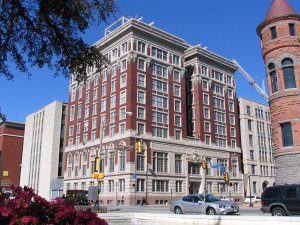 Perhaps because it is not open to casual visitation, Some visitors to Dealey Plaza may not realize the historical significance of this building.
In 1963 the Dallas County Jail was on the upper floors of this structure. It was to this jail that alleged JFK assassin Lee Harvey Oswald was going to be taken, from the Dallas city jail (located on the fifth floor of the old Municipal Building on Harwood Street), when he was shot and killed on Sunday, November 24, 1963 by Dallas nightclub owner Jack Ruby. This murder, which took place on live television, occurred in the basement of the old Municipal Building.
Ironically, Ruby was incarcerated in the building seen here and his trial took place here as well, in 1964. He was found guilty and sentenced to death. The verdict was on appeal in 1967 when Ruby died of natural causes at Parkland Hospital (the same hospital in which both JFK and Oswald died).
<-Go Back] [Return to Index] [Go Forward->
---
This website copyright &copy 2006-2011 (except where noted) by Steven Butler. All rights reserved.