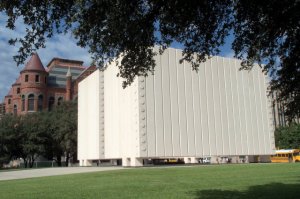 This stark memorial to John F. Kennedy, dedicated on June 24, 1970, it not actually located in Dealey Plaza. It stands immediately behind the "Old Red" courthouse, one block east of Dealey Plaza, in the center of an open space bounded by the courthouse square on the west, on the south by Commerce Street, on the east by Market Street, and on on the north by Main Street. It lies two blocks southeast of the spot where the late president was slain by an assassin on November 22, 1963. A nearby plaque identifies the structure as the work of architect Philip Johnson. The plaque also describes the memorial and explains its purpose:
"Johnson's design is a 'cenotaph' or empty tomb that symbolizes the freedom of Kennedy's spirit. The memorial is a square, roofless room, 30 feet high and 50 by 50 feet wide with two narrow openings facing north and south. The walls consist of 72 precast concrete columns, most of which seem to float with no visible support two feet above the earth. Eight columns extend to the ground, acting as legs that seem to hold up the monument. Each column ends in a light fixture. At night, the lights create the illusion that the structure is supported by the light itself. The corners and 'doors' of this roofless room are decorated with concrete circles or medallions, each identical and perfectly aligned. These decorations introduce the circular shape into the square architecture of the Kennedy Memorial."

"Visitors enter the room after a short walk up a slight concrete incline, embossed with concrete squares. Inside visitors confront a low-hewn granite square, too empty to be a base, too short to be a table, but too square to be a tomb, in which the name John Fitzgerald Kennedy is carved. The letters have been painted gold to capture the light from the white floating column walls and the pale concrete floor. These words - three words of a famous name - are the only verbal messages in the empty room."
The President passed by this location on two occasions, each time riding in a motorcade on Main Street. The first time was Tuesday, September 13, 1960, when Kennedy, then a Massachusetts Senator and the Democratic nominee for President, was riding in a convertible with his running mate, Senator Lyndon B. Johnson of Texas. At that time they were traveling east, from Dealey Plaza, on their way to Memorial Auditorium. There, Kennedy delivered a campaign speech at the same spot where his rival, Republican candidate Richard M. Nixon gave an address less than 24 hours earlier. On Friday, November 22, 1963, at almost exactly the same time of day (about half past noon), Kennedy, riding in an open-air Lincoln Continental with his wife and Governor and Mrs. John F. Connally, passed this spot again, this time traveling west toward Dealey Plaza where bullets, fired from the Texas School Book Depository would end his life only seconds later