ABOUT THE AUTHOR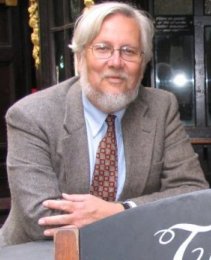 Steven R. Butler, a graduate of the University of Texas at Arlington (M.A. and Ph.D.) and a retired professor who formerly taught U.S. and Texas History at Richland College in Dallas and Collin College in Plano, is author of John Neely Bryan: The Father of Dallas (Poor Scholar Publications, 2016), the first complete biography of the Dallas founder ever attempted.
A native Texan and Richardson resident since 1983, Butler has also authored:
and several other titles. He is also a regular contributor to Legacies: A History Journal for Dallas and North Central Texas.
Butler's other credentials include serving as unpaid but acknowleged advisor to the PBS documentary "The U.S.-Mexican War" (1998) and "A Fair to Remember," a visual history of the State Fair of Texas, produced by Allen and Cynthia Salzman Mondell (2007), in which he also appeared. He is also a founding and current board member of the White Rock Lake Museum in Dallas, which based many of its displays on his research.
On a personal note, Butler is proud of the fact that his paternal grandfather, a Tennessee native, was an early-day resident of Richardson, who throughtout his life, even after moving to Dallas, maintained close ties to the city in which he first settled.
ABOUT THE BOOK
A Sesquicentennial History of RICHARDSON, TEXAS, Or, How a Tiny Railroad Towan Became One of the Biggest Small Cities in the Lone Star State is a 2-volume comprehensive "warts and all" account of Richardson from the earliest days of settlement in the 1840s to the present day (2022). In addition to all the major milestones, each volume includes many previously untold stories of human interest. A meticulous researcher, the author corrects mistakes that were made in previous histories of the city (as well as on some of the city's historical markers). Both volumes will also contain footnotes and be illustrated with photos, engravings, and maps.
Volume One, subtitled "Rural Roots," covers the early settlement period, the founding of Breckinridge (forerunner of present-day Richardson), the establishment of Richardson by the Houston & Texas Central Railroad in 1873, and events in the fledgling town's history up to the year 1924.
Volume Two, subtitled "Remarkable Rise," covers the past century, from the chartering of the City of Richardson in 1925 to the present-day (2023), with particular emphasis on the city's phenomenal post-World War II growth.
The publication of a combined hardcover volume is being considered.
To be notified when each volume is published, please sent email to: docbutler@yahoo.com.