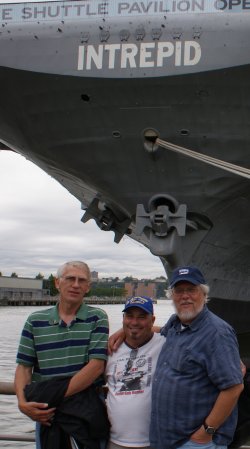 On Monday, June 11, 2012, for the first time in over forty years, three former Intrepid crewmembers reunited at the U.S.S. Intrepid, docked at the 46th Street Pier in New York City.
In 1971, Tom Kohlmeyer (left), Phil "Razzle-Dazzle" Randazzo (center), and Steve Butler (right), were all serving in VS-24 (AIRANTISUBRON 24), an anti-submarine warfare squadron stationed at NAS Quonset Point, Rhode Island, when they experienced the six-month long cruise that this website commemorates. Kohlmeyer and Randazzo went on to take two more long cruises on the "Fighting I," in 1972 and 1973.
The three former shipmates were joined by Butler's wife, Anita, who also experienced the 1971 cruise by traveling to approximately two-thirds of the ports-of-call, in order to spend time with her husband. When the cruise began on April 15, 1971, the Butlers were newlyweds who had been married just slightly more than seven months and had already been separated for several weeks by three shorter "shake-down" cruises that occurred in 1970 and 1971.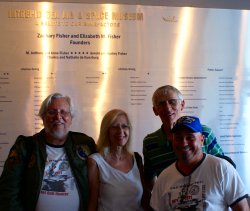 Kohlmeyer and Randazzo, who is a member of the former crewmembers assocation, had visited the Intrepid previously. This was Butler's first time back since he walked down the gangplank following the ship's return to NAS Quonset Point on October 15, 1971.
Although all three former crewmembers were pleased to see that their old "home" had been preserved and converted into a first-class museum, they each expressed dismay that certain parts of the ship were now off-limits to visitors and that the historical integrity of some areas had been compromised by new construction and the removal of entire sections. Butler was particularly unhappy to learn that the entire parachute packing compartment and dry locker had been removed to make way for a modern learning center. All three men were displeased when they saw that on the door of their squadron's ready room, which is part of the self-guided tour of the ship, the VS-24 "duty cat" logo had been painted over, leaving only a vague outline traceable under the paint, not just because it eliminated a squadron emblem from view but also because it compromised the historical integrity of the ship. (See photos immediately below.)
| | |
| --- | --- |
| VS-24 Duty Cat emblem painted over on Intrepid "Ready Room" door. The outline can still be seen, however. | VS-24 Duty Cat emblem on plaque at Quonset Point air museum. |
Despite these misgivings, the small group enjoyed themselves as they explored the ship from fantail to foc'sle, stopping frequently to recall old times. The photo album below constitutes a record of their visit. (To see larger images, click on the "tnnails."