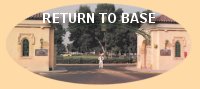 Friday, January 26, 1968: Recruits arrive at NTC to begin "boot camp" training
Monday, January 29, 1968: Primary training phase begins for Company 68-089, which is housed in new barracks at Camp Nimitz
Tuesday, January 30, 1968: The Tet Offensive begins in South Vietnam
Sunday, February 18-Saturday, February 24: Service week in chow hall at Camp Nimitz
Monday, February 26: Advanced training phase begins for Company 68-089; company poses for group photos and moves to barracks located on main base
Saturday, March 16: Senator Robert F. Kennedy announces his candidacy for the Democratic nomination for President
Saturday, March 30: Boot Camp liberty for Company 68-089
Sunday, March 31: Graduation; President Johnson announces he will not seek another term as President
Monday, April 1: "9-5" Day; newly-graduated recruits leave NTC for boot camp leave and new duty stations

Please Note: This website is maintained by a veteran who has no official connection with the United States Navy or any government or private organization connected with the United States Navy Training Center, San Diego or any other official entity.
This site launched on February 1, 2015.
This website copyright © 2015 (except where noted) by Steven R. Butler, Ph.D. All rights reserved.