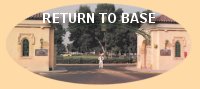 Return to Galleries
Personal Photos
Here are two personal photos that one of my shipmates (I think either Gene Faulkner or Steve Mistler) gave me when I was in Navy boot camp at San Diego in early 1968. These are the only ones I have.
Click on each "thumbnail" below to see a larger image or click on one and then use the right arrow key on your keyboard to move sequentially through them.
| | |
| --- | --- |
| Gene Faulkner and Steven Butler outside barracks at Camp Farragut | Company 089 Recruits outside barracks at Camp Farragut |
NOTE: I do not claim copyright on any of these postcard photos.
This website copyright © 2015 (except where noted) by Steven Butler, Ph.D. All rights reserved.