The Woofus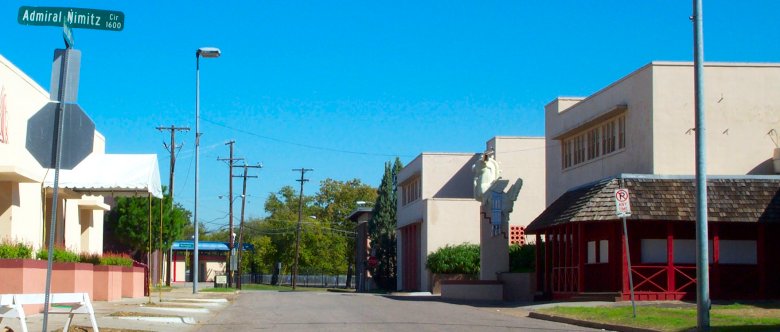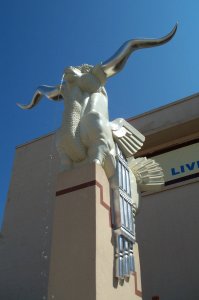 This reproduction of the Woofus, a "composite animal fountain," was created in 2002 by sculptor David Newton. It stands outside the Swine Building and opposite the Livestock Arena corral on Martin Luther King, Jr. Blvd. The original, made in 1936 by Lawrence Tenney Stevens for the Texas Centennial Exposition, was removed from its 16-foot tall pedestal in October 1941, after workmen building a new livestock arena accidentally damaged the statue's nose with a steel beam. For years afterward it was rumored that it had been removed and destroyed in deference to one or more religious groups, who viewed the odd creature as some sort of pagan idol. No one seems to know what became it after it was stored away. Maybe it is collecting dust in some remote corner of a forgotten warehouse somewhere.
The Woofus (the origin of the name is uncertain) is an amalgam of 6 animals: It has the head of a sheep, the neck and mane of a horse, the body of a hog, the wings of a duck, the tail of a turkey, and the horns of a Texas longhorn (they span 10 feet). If you take a look at the back of the statue, it is evident that the Woofus is male. During the State Fair a stream of water spurts from the Woofus' mouth and into the fountain below. Made of bronze and concrete, he weighs nearly 3,000 pounds (that's one and one-half tons!).
A move to replace the Woofus was started in 1997 by Friends of Fair Park executive director Craig Holcomb. Over a period of five years, more than $60,000 was raised from private donors, much of at dinner parties where the guests were called upon to sing "The Woofus Song," the chorus of which includes the words, "Oink, quack, neigh!"
Sources:
The Dallas Morning News - October 2, 1941; July 19, 1997; August 5, 1997; August 8, 1997; July 29, 1999; September 3, 1999; August 31, 2002; and October 3, 2004.
Louise Elam, preparer, Fair Park Project Summary (Dallas: Dallas Park & Recreation Dept., 2002?)
---
This website copyright © 2003-2012 (except where noted) by Steven Butler, Ph.D. All rights reserved.