Children's Aquarium at Fair Park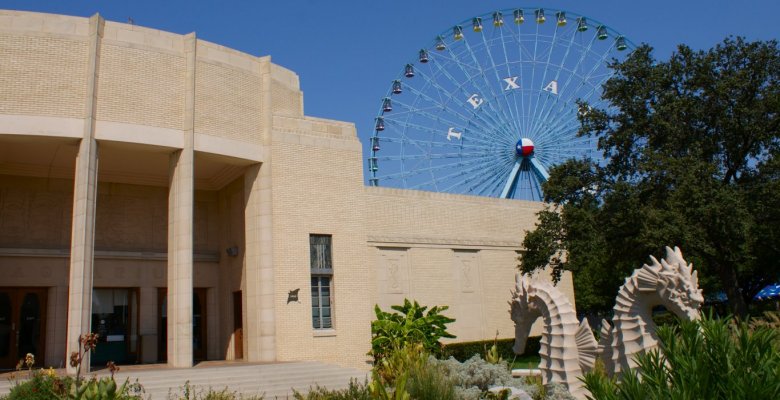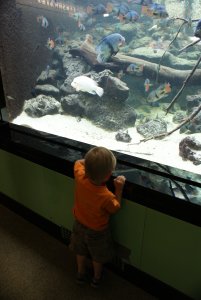 Here's a place where there's always something "fishy" going on!
Across First Avenue from the Fair Park Bandshell is the one-story Children's Aquarium or "Hall of Aquatic Life" as it was originally called. The building was designed by local architectural firms Flint & Broad, Fooshee & Cheek, and H. B. Thompson. Dallas artist Allie V. Tennant (who sculpted the Tejas Warrior on the Hall of State) created the sculptural carvings on the brick and stone exterior. The stone of which the building is partly constructed is Cordova cream limestone and Native Texas shellstone. A matching addition to the building was made in 1964.
The Aquarium opened in 1936 with 44 tanks containing live marine specimans. The tanks, made of metal and concrete, are lined with one inch thick plate glass. Although most of the animals on display are fish, over the years the Aquarium has featured some other types of aquatic animals as well. For example: from September 1949 until her death in July 1984, "Mikey" the harbor seal was a particular favorite with visitors. Sea turtles and a white alligator are also popular attractions.
Visitors enter through tall, cut-stone shafts. Inside, in the loggia, the floor is brightly tiled and the main interior floor is made of terrazo marble laid in alternate colors of white, red, and green. This decor, along with the fish swimming lazily to-and-fro in their tanks makes this place a cool oasis of peace and calm.
For the most up-to-date information about exhibits, hours of operation, and admission prices, visit the Children's Aquarium at Fair Park website.
---
Copyright © 2002-2012 by Steven Butler, Ph.D. All rights reserved.