AN UNOFFICIAL GUIDE TO THE HISTORY AND DEVELOPMENT OF FAIR PARK
About This Web Site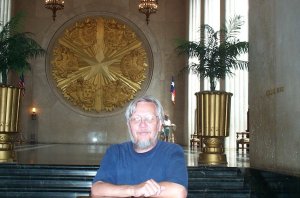 This Web site is provided as a free public service by a private citizen who has no official connection with the City of Dallas Parks & Recreation Department or any other organization associated with, or located at, Fair Park. The site has only two purposes: to educate and to entertain. Its emphasis is on the history and architectural development of the park. It is not intended to be a history of the State Fair of Texas (although fair and park are so inextricably linked it is difficult to mention one without mentioning the other). For those who are especially interested in the history of the Fair, The Great State Fair of Texas, a book written by State Fair publicist Nancy Wiley and published in 1986, is highly recommended.
All the information on this site was obtained from a variety of sources. The author cannot assume any responsibility for any incorrect or outdated information contained herein.
If you want to know more, please read: Why I Created This Web Site
All images on this site, including digital photographs, were created by the author, except where noted. Limited reproduction of photographs or other original images for personal, non-profit, and/or educational use (such as for computer wallpaper or a school report) is hereby granted except that none of the images herein may be displayed on another web site without permission from the owner (which may be granted, depending upon circumstances, so please don't be afraid to ask). If interested in using images or other material for commercial use, please send email to the address below. Unauthorized use is prohibited without the author's permission.
Please send comments or questions to: texian1846@yahoo.com
Copyright © 2002-2012 by Steven Butler, Ph.D. All rights reserved.