Henry "Dad" Garrett: The Father of WRR
By Steven Butler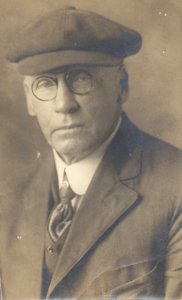 When I was nine, my grandmother showed me a photograph of her late brother-in-law, Henry "Dad" Garrett and proudly told me that he had invented Dallas' traffic light system. Later, I learned that my talented granduncle was also the "father" of radio station WRR. I have since discovered that these two signal accomplishments (pun intended) were but the highlights of a long and noteworthy career.
The man whom historian A. C. Greene has dubbed "Dallas' Inventive Genius" was born about 1861 in Canada. He was the second youngest son of Episcopal Archbishop Alexander C. Garrett and his wife Letitia. In 1874, after postings in California and Nebraska, the family came to Dallas.
Although both his father and grandfather were clergymen, Henry Garrett chose a different path. In 1885, after earning a degree in electrical engineering, he became manager of the new Pan-Electric Telephone Company. When this enterprise failed (owing to a legal ruling that the design of some of the company's equipment violated patents held by Alexander Graham Bell, inventor of the telephone), Garrett rebounded by installing an electric light system for the first Texas State Fair. Later, he worked for Southwestern Bell and the Dallas Street Railway Company. During the 1890s he and a partner ran an electrical supply business. During this period, Garrett indulged his love of music by serving as organist at St. Matthew's Cathedral, where his father officiated.
At the turn of the century, Garrett was nearing middle age and still living at home with his parents when he met Lillian Butler. Surely, there was never a more unlikely pairing. In contrast to Henry, whose father and mother were listed in the Dallas Social Register, Lillian was the daughter of a failed sharecropper turned itinerant carpenter. Equally striking was the disparity in their ages. When they were wed in 1902, Henry was forty-one. Lillian, said to be an extraordinarily pretty young woman, had just turned seventeen.
Around this same time, Garrett became fascinated with automobiles. As Dallas's first dealer, he filled orders for Locomobile, National Electric, and Oldsmobile. In 1904, the year his son Charles was born, Garrett entered an auto race at Fair Park and won by reaching a breakneck speed of 30 M.P.H.!
Following the births of his son Fred and daughter Letitia, Garrett began a new career as superintendent of the Dallas Police and Fire Signal System. In 1920 he assured his place in Dallas' history by installing a 50-watt radio transmitter at the central fire station, licensed with the call letters WRR. The equipment's principal purpose was to transmit alarms to the other fire stations as well as to the portable radio receiver that Garrett carried in his car.
Being a music lover, Garrett soon found another use for the city's new equipment. Between fire alarms, for the benefit of any crystal radio set owners who might be listening, he connected the transmitter to a phonograph and played his collection of classical recordings (the same type of music WRR has broadcast for over 80 years). By 1921, the station had a regular daily schedule. Every evening at 7 police bulletins, baseball scores, and a weather forecast were aired. This was followed at about 8:30 by a classical music concert.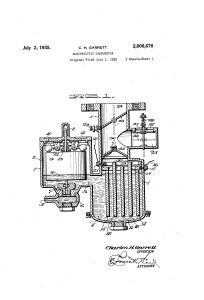 Garrett's traffic signal lights were first installed on Elm Street in 1923, in hopes of cutting down the ever-increasing number of traffic accidents. In one of life's ironies, Lillian Garrett was fatally injured in a car crash seven years later, dying in February 1931.
During the years immediately following his wife's untimely demise, Garrett and his oldest son experimented with a device that enabled a car to use water as fuel. Patented in 1935, the Garretts' "electrolytic carburetor" was demonstrated publicly but for some unknown reason was never marketed.
Several years later the Times Herald gave "Dad" Garrett, rather than his son, credit for inventing the electrolytic carburetor. It also reported that he "practically lives by his inventions." In his quarters at the central fire station, the newspaper noted, "he has his own alarm clock system. Every night at 10 p.m. his radio is switched on by automatic control by a clock. It plays him to sleep and switches off again at 11:30 p.m. Then it wakes him up again at 6 a.m."
The inventor also had a magnet that he used for a pincushion, a homemade barometer and wooden clock. In a corner stood "the first police radio transmitter in the world, now just junk."
In 1948 Garrett retired from the Dallas Fire Department after more than forty years of service. Three years later, after he died at his daughter's farm in Mesquite, the entire city fire and police departments turned out for the funeral of this remarkable man, who was laid to rest in an unmarked grave in the Garrett family plot at Oakland Cemetery.
(This article originally appeared in the Friends of WRR Radio Program Guide, February 2002.)
Copyright © 2001-2003 by Steven Butler. All rights reserved.