Second Entrance Building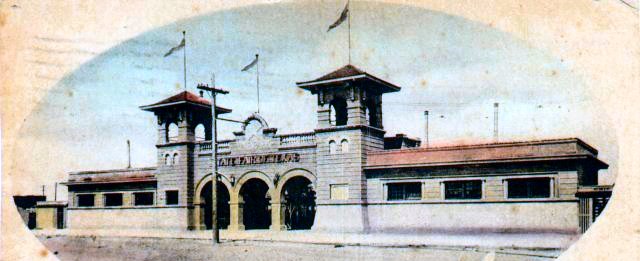 (To see several more views of this structure, visit: The Look of the Park: Entrances.)

After the first gatehouse was demolished in 1904 or 1905, a new stone, steel, and cement entrance, with offices for the Secretary of the Fair Association, was constructed in 1906 on the same site as the old entrance. It was designed by architect James Flanders. Costing $5,000 to build, it stood until February 12, 1936 when it too was torn down to make way for the present entrance.

This second structure was very attractive. It consisted of a central pedestrian entrance block with three arched portals and two upper-story towers, both roofed and topped by flagpoles. Flanking either side of the main entrance block were two one-story wings used as administrative offices. Over the entrance portals were the words "State Fair of Texas" in large letters and above those, "Fair Park." Above the name of the park was an Alamo-like pediment with a large five-pointed star attached, similar to the star on the 1936 pylon. To the right of the 1906 Entrance Building was the park's vehicle entrance, where it had always been, except that it was now flanked by two tall, statue-topped stone gateposts with lamps attached to either side.
---
This website copyright © 1996-2012 (except where noted) by Steven Butler, Ph.D. All rights reserved.