Textile & Fine Arts Building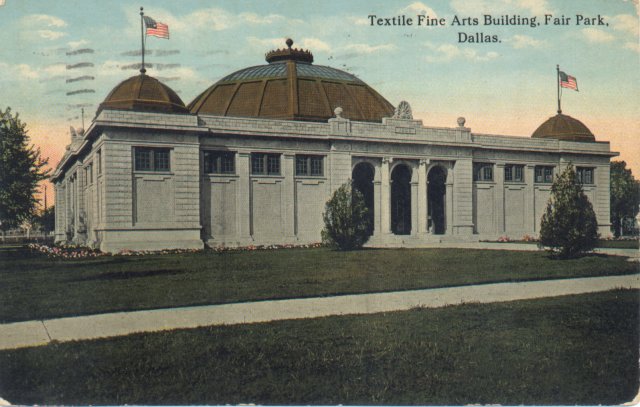 Immediately behind the D.A.R. House is a parking lot where once stood a grand structure called the Textile and Fine Arts Building. Designed by the architectural firm of Habbell and Greene, it was built in 1908 for $37,000.
The Fine Arts Building was designed in a style called "mercantile classicism," inspired by the "White City" Columbian Exposition held in Chicago in 1893. Its large dome and two smaller domes were a deliberate copy of the Exposition's horticultural hall, which had been the work of the renowned architect William LeBaron Jenney.
In 1909 the Dallas Art Association deeded its collection in trust to the City of Dallas in return for the use of the building as an art museum. Here, the collection remained on display until 1928 when a hailstorm broke the glass of the dome and damaged some of the works of art. That unfortunate incident spelled the end of the building's days as a museum and thereafter it was used as a storage or service facility. During the early 1950s it was demolished.
---
This website copyright © 1996-2012 (except where noted) by Steven Butler, Ph.D. All rights reserved.