Return to: Texas Hall of State Intro
Texas Hall of State Exterior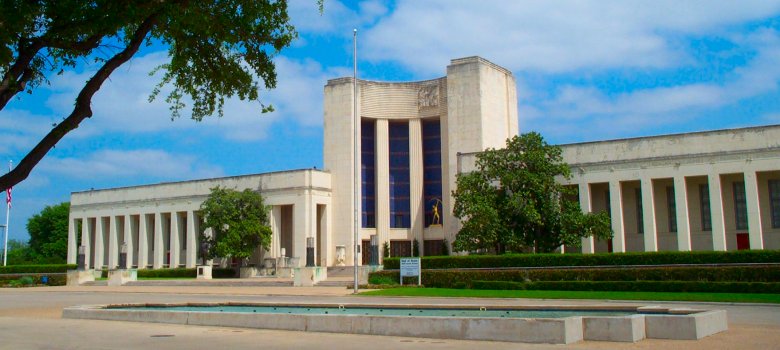 Before entering this building the visitor should stand in front of it for a few moments to drink in its magnificence. Shaped like a gigantic inverted "T" (for Texas, of course), the building's exterior is made of native Texas limestone. It is a shrine to Texas history, its purpose to commemorate and honor the men and women who (to paraphrase Winston Churchill), with their blood, sweat, tears and toil, made the Lone Star state what it is today.

Along the frieze along the top of the building are carved in large letters the names of fifty-nine prominent Texans of the past. With a few exceptions (Sam Houston, Stephen F. Austin, Francisco Vasquez De Coronado, and Alvar Nunez Cabeza De Vaca), only last names are found. Some of the names are somewhat obscure to modern-day Texans, others are immediately recognizable. There is also a little secret worked into the frieze: the first letter of the first eight names you see, as you face the building's front and read from left to right, spells out the last name of the architect who designed the Hall of State--Donald Barthleme (only the final "e" is missing.) Those Texans honored on the frieze are as follows:
NORTH SIDE

William MENEFEE
Thomas J. CHAMBERS
Isaac VAN ZANDT
Thomas S. LUBBOCK

LEFT FRONT

Edward BURLESON
Branch T. ARCHER
Thomas Jefferson RUSK
William Barret TRAVIS
James Stephen HOGG
Richard ELLIS
Mirabeau B. LAMAR
Ben MILAM
David G. BURNET
John Coffee "Jack" HAYS
Erastus "Deaf" SMITH
Albert Sidney JOHNSTON
STEPHEN F. AUSTIN

LEFT SIDE of PORTICO

RIGHT FRONT

SAM HOUSTON
J. Pinckney HENDERSON
Oran M. ROBERTS
Lorenzo de ZAVALA
James BOWIE
John REAGAN
Anson JONES
James FANNIN
Gail BORDEN
William H. WHARTON
Peter BELL
Jose NAVARRO
Elisha M. PEASE

RIGHT SIDE of PORTICO

SOUTH SIDE

Samuel WILLIAMS
Ben McCULLOCH
James W. ROBINSON
Matthew "Old Paint" CALDWELL
LEFT REAR

James COLLINSWORTH
John HEMPHILL
George CHILDRESS
Thomas GREEN
Royal T. WHEELER
Benjamin C. FRANKLIN
Henry KARNES
Moseley BAKER
Walter LANE
Patrick JACK
FRANCISCO VASQUEZ DE CORONADO
Alonso Alvarez de PINEDA

RIGHT REAR

Alonso de LEON
ALVAR NUNEZ CABEZA DE VACA
Hamilton P. BEE
William R. SCURRY
Memucan HUNT
Frank JOHNSON
Samuel CARSON
Sidney SHERMAN
Abner S. LIPSCOMB
George W. HOCKLEY
Henry W. BAYLOR
Robert M. WILLIAMSON
(Further Note: In the case of some of these names, I have had to make an educated guess as to which particular individual the carved name honored. If you see an obvious error, please let me know by sending email to texian1846@yahoo.com.)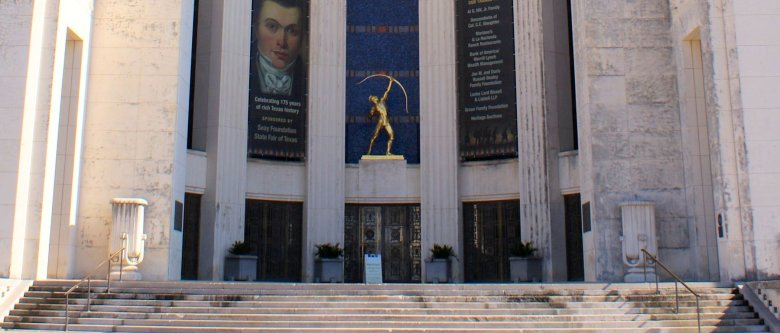 The semi-circular paved area at the entrance to the building is called the "Portico Tejas." As visitors walk up its steps their eyes are usually drawn to the eleven-foot tall golden statue of the "Tejas Warrior" standing above the center doors, framed by 76-foot tall limestone pilasters. The statue, the work of Dallas artist Allie Victoria Tennant, is made of bronze covered with gold leaf. In recent years, it was taken down and re-gilded and is now protected from the park's pigeons by an almost invisible netting. Blue tiles on the wall behind the warrior represent the Texas state flower, the bluebonnet. The orange designs are meant to recall the Aztec Indians who were native to Mexico.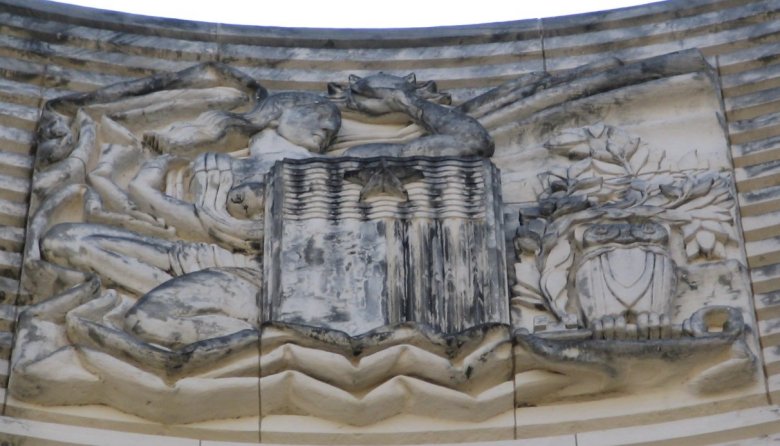 "The Symbolic Seal of Texas," designed by Donald Barthleme and sculpted by Henry Lee Gibson, can be seen high above the warrior. It features a female figure known as the "Lady of Texas." In front of her is a shield with the design of a Texas flag upon it. In her left hand she holds aloft a fire representing the spirit of patriotism. Beside her is an owl (representing wisdom) perched on a key, symbolic of prosperity and progress. The leaves of a pecan, the Texas state tree, spread out behind the owl.
The doors of the building, made of bronze, are also abundant with symbolism. Various designs representing the agriculture and industry of Texas can be seen upon them. These include a a circle of oil derricks surrounding a gusher, cotton bolls and wheat sheaves, a cowboy's lariat and horse's hoof, a saw-blade with a pine-cone in its center, cattle, and ponies.
A statue of Robert L. (R. L.) "Bob" Thornton, civic leader and former Mayor of Dallas, stands watch over the esplanade, on the terrace of the Hall of State. It was thanks to Thornton that the Texas Centennial Exposition was held in Dallas. A nearby freeway is named for him.

At the foot of the Hall of State Terrace, are lamp-posts which continue the theme of Texas under Six Flags. Notice the little bronze figures of a pioneer, Spanish and Confederate soldiers, and so on.
| | |
| --- | --- |
| | A miniature Statue of Liberty, donated to Fair Park by the Boy Scouts of America in the early 1950s, stands just below the north end of the Hall of State terrace. |
---
Principal Information Sources:
The author's own training and experience as a volunteer tour guide at the Hall of State, 1985-1990.
A Gathering of Symbols: Texas History in the Hall of State (Dallas: Dallas Historical Society and the Junior League of Dallas, Inc., 1985).
Copyright © 1996-2012 by Steven Butler, Ph.D. All rights reserved.