Return to: Texas Hall of State Intro
Hall of Heroes
Emerging from the Great Hall, the visitor enters into the semi-circular Hall of Heroes. Its floor is made of pink Tennessee marble, bordered and inlaid with red Vermont marble with marble wainscoting of Italian origin. Along the top of the hall runs a frieze where the names of battles and other places significant in Texas history are commemorated. These are: Victoria; Salado River; Gonzales; San Felipe; Goliad; San Antonio; Coleto Creek; Mier; San Jacinto; Concepcion; Alamo; San Patricio; Refugio; Washington; Velasco; Brazoria; Harrisburg; and Anahuac.

However, the hall's most outstanding features are not the materials of which it is made or its frieze but the six heroic-sized statues of men who were prominent in early Texas history. The statues, cast in bronze, are the work of Italian-born artist Pompeo Coppini. The subjects were chosen by asking Texas historians to name men whom they thought most worthy of commemoration.

Click images for larger views.
Beginning at the north end of the Hall of Heroes one first finds the statue of James W. Fannin - probably the most tragic figure of the Texas Revolution. Fannin, commander of the doomed Texian troops at Fort Defiance (Goliad), is depicted holding his jacket open with his left hand while extending the right. In his open palm is a pocket watch. This pose recalls the story that Fannin, just before he was to be executed, asked the Mexicans to shoot him in the heart and to give his watch to his wife. They did neither. Fannin was shot in the head and the watch was pocketed by the Mexican commander. Today, Fannin's watch is among the artifacts kept in the Dallas Historical Society's collection.
The next figure encountered is that of Mirabeau B. Lamar. Best known as one of the three presidents of the Republic of Texas (the other two were Sam Houston and Anson Jones), he also fought with Houston at San Jacinto in 1836. Lamar was first a private, later a Colonel of Cavalry. During his administration as president he followed a policy of hostility toward the Indians (a policy opposed by Houston) but acquired the title "Father of Texas Education" by setting aside public lands to finance public education for all young Texans. He also established the city of Austin as the capital. Following annexation, Lamar commanded a contingent of Texas Rangers in the Mexican War and later served as U.S. minister to Argentina.
Stephen F. Austin, whose statue stands to the left of the stairs leading into the Great Hall, is known to every schoolchild as "The Father of Texas." Austin was the son of Moses Austin, a man who secured permission from the Spanish to settle Americans in Texas. However, before he could carry out his plan, Moses died and left it to Stephen to continue. This he did, even after Mexico became independent from Spain in 1821 and new permission had to be secured. During 1821-`22 Austin settled the "Old Three Hundred" families in Texas and over the years brought in many more Americans. When the Anglo colonists were aggrieved of the Mexican government during the early 1830s it was Austin who traveled to Mexico City to represent them. There, he was arrested and imprisoned for nearly a year. Upon release he returned to Texas where he had previously counseled patience. But his arrest had changed his mind and that of many others. Shortly thereafter the Texas Revolution began and Austin, who was not a military man, was made a General. He lived only long enough to see Texas win its independence from Mexico, dying an untimely death in December 1836.
On the right-hand side of the steps stands Coppini's statue of Sam Houston - the most famous Texan of them all. A soldier during the 1813 Creek Indian War, Houston was also Governor of Tennessee, political protege' of President Andrew Jackson, General-in-chief of the Texas Army, twice-President of the Republic of Texas, a U.S. Senator, and Governor of the State of Texas. Ironically, he died in 1863 convinced his life was a failure. Houston's crowning achievement was his victory over Santa Anna at San Jacinto on April 21, 1836, thus securing the independence of Texas from Mexico. Although he was reputed to be a heavy drinker and thrice-married (only twice legally), there are few Texans who would agree with Houston's assessment of himself.
Thomas Jefferson Rusk is represented by the next statue. He too was with Houston at San Jacinto, taking over command of the Texas army after the General was wounded. He held a number of political offices throughout his life and in Texas was nearly as popular as his old commander. During the years of the Texas Republic Rusk served it as Secretary of War; later, after Texas joined the United States, Rusk was a U.S. Senator until his death by suicide in 1857.
The final statue in this group is of another tragic figure, the flamboyant, seemingly brilliant, but utterly doomed William Barret Travis. Travis had been in Texas early enough to be involved in a number of incidents leading up and including some of the first skirmishes of the Texas Revolution, but it is as Commandant of the Alamo that the 26-year old lawyer-turned-soldier is best known. As a Colonel in the Texas Army Travis commanded the "regular" troops at that old Spanish mission-turned-fort while his nemesis, Jim Bowie, was in charge of the volunteers. After Bowie became incapacitated, Travis took over complete command of the tiny band of defenders. Here, in the Hall of Heroes, Travis is portrayed with his sword in hand, drawing his famous line in the dust. According to legend, he challenged his men to cross it and stay to die fighting with him against the Mexicans after he learned the Alamo garrison would receive no reinforcements. Every man crossed the line but one (the one who lived to tell its story). A few days later they were all killed in the final battle, at dawn on Sunday, March, 1836.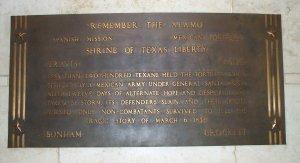 Alamo Plaque
Across the hall from the Travis statue there is a bronze plaque on the wall. It is a memorial to all the Alamo defenders. The names of Travis, Bowie, Crockett and Bonham are prominent upon it. There are some who think Crockett, and Bowie also, ought to have been immortalized by Coppini. However, Crockettt, while certainly the most famous of the Alamo defenders, had only been in Texas about three months before his death. At the time, he was a 49-year old ex-Congressman from Tennessee who had been seriously considered by the Whig Party as a possible presidential candidate. Already legendary for his prowess as a bear hunter and his ability to tell a good tale, the "coonskin Congressman" authored a book in 1834 which told the story of his life and spread his notoriety even further. His death at the Alamo is still a matter of controversy. There are some historians who hold that an account, written by a junior Mexican officer, which tells of Crockett and five or six others being captured after the battle and being executed, is historically accurate. Yet there are flaws in this story which render it questionable. Also, there exists contrary evidence that he may have been killed in battle, evidence which these same historians choose to ignore. It is safe to say that unless irrefutable evidence comes to light in the future, the real story of David Crockett's death may never be known.

San Jacinto Plaque
Another plaque commemorates the Battle of San Jacinto, April 21, 1836, at which Texas' independence from Mexico was won by General Sam Houston and the Texas Army.
---
Principal Information Sources:
The author's own training and experience as a volunteer tour guide at the Hall of State, 1985-1990.
A Gathering of Symbols: Texas History in the Hall of State (Dallas: Dallas Historical Society and the Junior League of Dallas, Inc., 1985).
Copyright © 1996-2012 by Steven Butler, Ph.D. All rights reserved.