In 1956, when I was seven years old, I visited the State Fair of Texas with my aunt and uncle, Inez and Charles Hickman. It was not my first visit to the State Fair but it was the first and possibly the only one (until the 1980s) when someone in my group thought to take some photos! The three photos seen here are enhanced, digital versions of color slides taken by my uncle, who is now living in a home for senior citizens. For decades, they sat in a box in a closet in his Lake Highlands home, forlorn and forgotten, until now!
The first photo shows me and my Aunt Inez (I just called her Aunt 'Nez), sitting on a low wall near the south end of the Automobile Building. The Texas portico of the Centennial Building, painted a pale shade of blue, is visible in the background. At this time, my aunt worked at radio station WRR, which was located in the south end of the Centennial Building. The station's call letters can be seen above the row of doors, on the far side of the fountains behind us.
The second photo shows the monorail that was first installed at the State Fair in 1956. In fact, in this photo, it looks like workmen are still in the process of getting it up and running! Once it was ready, it carried passengers from a station between the lagoon and Cotton Bowl to the far end of the Automobile Building and back, which was not a very long ride but exciting all the same! At this time, everyone seemed to think that the monorail would be the public transportation of the future. It wasn't; at least not in Dallas.
The third photo was taken from probably the same vantage point as the second except that my uncle turned around to face the lagoon. There, on the other side, was the front of the Dallas Museum of Fine Arts, with a sign over the entrance advertising an exhibit called "Mr. President," which featured portraits of all U.S. Presidents from George Washington to the man who was then running for re-election in 1956, Dwight D. Eisenhower. In all likelihood, my aunt and uncle and I visited the exhibit but I am sorry to say I don't remember anything about it. I do remember riding the monorail though!
Do you have any interesting old photos taken at Fair Park that you would like to share? If so, please send email to: texian1846@yahoo.com.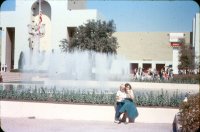 Click to see a larger image.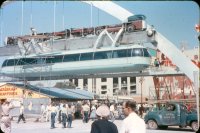 Click to see a larger image.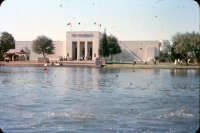 Click to see a larger image.