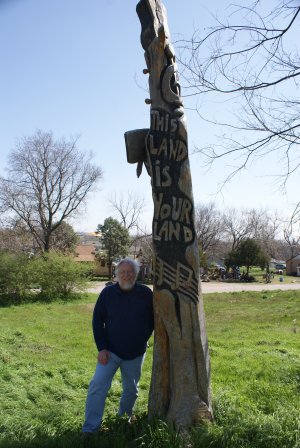 Above: Steven Butler in Okemah, Oklahoma, 13 March 2012.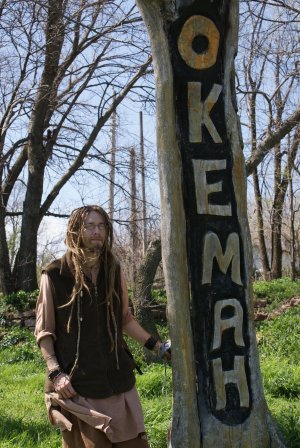 Above: Nathan Butler in Okemah, Oklahoma, 13 March 2012.
I have been a Woody Guthrie fan for over forty years but it was not until early 2012, during the centennial year of his birth, that I finally realized a long-held dream--to make a "pilgrimage" to the little town in central Oklahoma where Woody was born and see some of the places associated with his early life.
Prior to my visit, which my youngest son Nathan made with me during Spring Break, I did some online research. Unfortunately, I only had a short amount of time to spend in Okemah so naturally, I did not want to waste any of it in fruitless searching. One thing I quickly learned was that despite there being a number of websites featuring one or more sites in Okemah associated with Woody Guthrie, there was none that listed them all and only few that provided any specific information regarding locations. The purpose of this site, therefore, is to remedy that situation--in other words to make it easier for other "pilgrims" to find what they are looking for. After you have had a chance to look this website over, I hope you'll agree that I was successful.
I also want to make one thing plain: I am just an ordinary "fan" who admires Woody Guthrie not only for his music but also for his demonstrated concern for the common man (and woman) of this country. Although I own a number of books about Woody and also several recordings, I am not a Woody Guthrie "expert." I also do not live in Okemah. In short, while I welcome comments, suggestions, and corrections of factual information, I lack both the time and expertise to answer any questions that don't pertain specifically to this website. Please see the list of Links and Resources that I have provided. Thanks!


Send email to: texian1846@yahoo.com