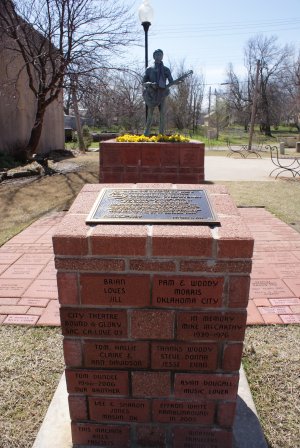 Above: Woody Guthrie statue and sponsored bricks; downtown Okemah.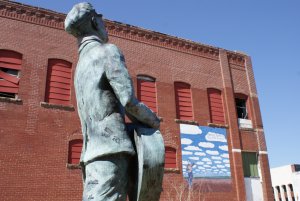 Above: Woody Guthrie statue and adjacent mural.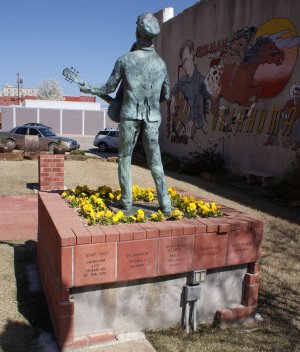 Above: Woody Guthrie statue and the other adjacent mural.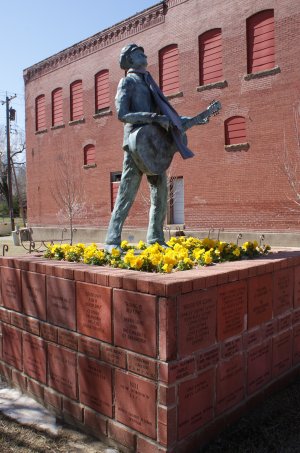 Above: Woody Guthrie statue and memorial brick pavers.
This small bronze statue of Woody Guthrie, the base of which is embellished with engraved red brick pavers, stands in a tiny little park situated on the south side of W. Broadway (which locals and some websites refer to as "Main Street"), between 3rd and 4th streets (in a space that I suspect was formerly occupied by a building that was long-ago torn down). The address is 510 W. Broadway--a half block east of the Crystal Theater (on W. Broadway at 4th). The park is easy to miss however, so when you go looking for it, drive slowly or you might pass it withoug realizing! If you can't find a parking space near the site (there are no meters, thank goodness), try one of the nearby side streets.
The slightly-smaller-than-life-sized statue (with slightly outsized guitar) was sculpted in 1998 by Dan Brook, a Creek Indian. After sixteen years, it has now turned a pale shade of green (not unlike the Statue of Liberty). The day I photographed it, there was a scarf, which was occasionally blowing in the wind (hmm, that sounds like a song by another folk singer), wrapped around its neck--no doubt placed there by some admirer. On the statue's head is a cap like the one Woody wore for the publicity photos that were taken at the time his autobiography, Bound For Glory, was released.
The statue's dedication was one of the highlights of the Woody Guthrie folk festival, which was held in Okemah for the first time in 1998. It has been an annual event ever since.
There seems to be some confusion regarding the person to whom the park is dedicated. One would assume, since there is a statue of him here, surrounded by engraved brick pavers and flanked by two large murals, that this park is dedicated to the memory of Woody Guthrie. However, next to the sidewalk there stands a waist-high concrete pedestal to which two undated plaques are attached. The top plaque, which appears to be the oldest, reads: "This park was donated to the City of Okemah and dedicated to the memory of Dale Wolfe by Lloyd & Helen Beasley and Alma Wolfe." A newer looking plaque attached to the front reads: "This park donated and dedicated in memory of Lawrence Powers."
Some of the brick pavers attached to the base of the statue, which also embellish a waist-high brick-clad pedestal as well as the paved space in-between, bear the names of individuals, businesses, and organizations of various kinds. Others are engraved with short messages or the title of a Woody Guthrie song. One 12-inch paver, attached to the top front of the statue's base, which reads "Bound for Glory," bears the names of Woody's parents and siblings. Another lists his wives and children, including his equally famous son Arlo. As of this writing, these Woody Guthrie Song Title or Personalized Memorial Bricks can still be purchased for $25, $35, or $150, depending upon the size. The Woody Guthrie Coalition plans to use the money raised from the sale of these bricks "to annually provide a scholarship to a graduating senior from an Okemah area school who demonstrates a continuing involvement in fine arts."
The brick-clad pedestal, which stands a few feet in front of the statue, is topped by a plaque, which reads:
FRIENDS OF LIBRARIES USA
LITERARY LANDMARKS REGISTER
OKEMAH, OKLAHOMA
NESTLED IN THE OKLAHOMA HILLS
AND THE BIRTHPLACE ON JULY 14, 1912 OF
WOODY GUTHRIE
THE RENOWNED POET AND FOLK SINGER, THE
HOMETOWN THAT INFLUENCED SONGS SUCH AS
THE AMERICAN CLASSIC THIS LAND IS YOUR LAND
AND SCORES OF OTHER SONGS, POEMS, AND
BOOKS INCLUDING HIS AUTOBIOGRAPHICAL NOVEL
BOUND FOR GLORY, IS DESIGNATED A LITERARY
LANDMARK BY FRIENDS OF LIBRARIES U.S.A.
FRIENDS OF LIBRARIES
IN OKLAHOMA, FOLIO


OCTOBER 5, 2001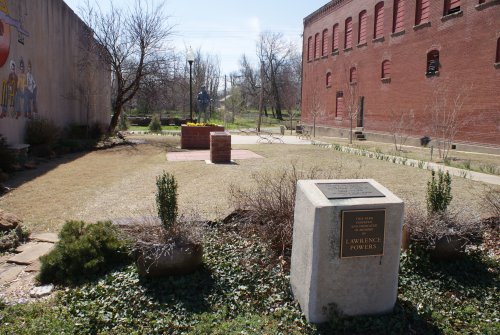 Above: Here is a view of the small park that lies in-between two buildings, on the south side of W. Broadway between 3rd and 4th streets in Okemah, Oklahoma. The murals are on the building walls on either side.