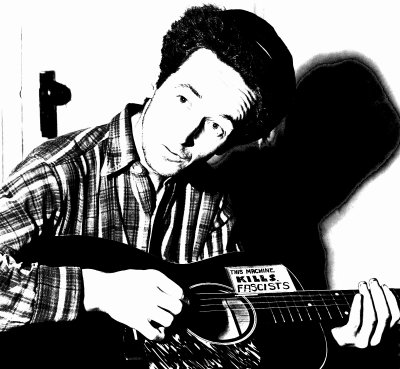 Woodrow Wilson "Woody" Guthrie, named for the 1912 Democratic Presidental Nominee and then-soon-to-be President, was born on July 14, 1912 in Okemah, Okfusgee County, Oklahoma. Woody was the third child and second son of Charley Edward Guthrie and his wife Nora Belle (maiden name: Tanner).
Woody was born in a house called the "Dewey property," on 6th Street. In 1913 the family moved to the "London place," a two-story, six-room structure that stood on a hill at the southwest corner of S. 1st Street and W. Birch Street. This house, which was demolished in 1980 and on which presently stands a carved tree memorial to Woody, is often mis-identified as his birthplace.
The Guthrie family lived in several other houses in Okemah, both before and after Woody was born. They also lived for a year in Oklahoma City and on a farm about 2 miles north of town. Woody's father, a real-estate agent and aspiring Democratic politician, had an office on the city's main thoroughfare, W. Broadway. Over the years, the family knew both good times and misfortunes, such as the premature death of Woody's sister Clara in 1918 from burns she received when her dress caught fire.
Woody's other siblings were older brother Lee Roy, younger brother George, and younger sister Mary Josephine.
Except for the year in Oklahoma City and a brief trip to East Texas when he was sixteen, Woody spent his entire youth in Okemah. In June 1929, when he was nearly seventeen, he left to join his father in Pampa, Texas, where Charley Guthrie had gone to stay with relatives after he was burned with a kerosene lantern and his wife, Nora, was committed to the Oklahoma state hospital in Norman (where she died of the same Huntington's Disease that would eventually kill her famous son). Although he sometimes returned to Okemah to visit relatives, Woody spent the rest of his life living in Texas, California, New York, and traveling all over the country.
Woody's Love For His Hometown Not Always Mutual
Although Woody Guthrie wrote about his hometown with obvious fondness in his autobiographical novel Bound For Glory, the feeling was not always mutual. After he died, reported one newspaper, "There were moves afoot back at Okemah to recognize their most famous native. A memorial folk festival and a children's wing at the Okemah Library in Guthrie's name were contemplated. But neither proposal materialized."
Finally, in July 1971--nearly four years after his death from Huntington's chorea at age 55, widow Marjorie and son Arlo visited Okemah, to donate some of Woody's books and recordings to the Okemah Public Library. (An earlier donation attempt, before his death, was reportedly "rebuffed.") At the same time however, newspapers reported that when Oklahoma Senator Fred Harris proposed a bill that same year, which would have made Woody's birthday a national holiday, it failed due "largely to the efforts of Allison A. Kelly, president of the [Okemah] Chamber of Commerce and head of Citizens State Bank in the town." It was further reported that "Kelly pointed out that Guthrie wrote a column for the Daily Worker, the national Communist newspaper and that testimony of an undercover agent for the FBI, since convicted of perjury, before the House Committee on Internal Security, identified him as a Communist." Another paper identified Kelly as "a 35-year-old Republican whose mother was Repubican national committeewoman from Oklahoma for eight years" and reported that he "speculated" that Harris, a Democrat, "introduced the resolution in Congress" in order to "attract the 18-year-old vote." "I'm sure," Kelly added, "he didn't check into the background of Woody Guthrie." Not surprisingly, the Okemah Chamber of Commerce "voted 7-to-1 against commemorating Woody's birthday in any manner, with Kelly adding: "We've had three Vietnam deaths in this town, boys fighting Communists." Although Kelly conceded that Woody Guthrie "has some cultural achievement," he added: "To commemorate a Communist here" would be "a contradiction." Another paper reported that the Chamber of Commerces was fearful that official recognition of Okemah's native son "would have brought in a flood of hippie types."
Under newspaper headlines that read "Never Accepted," "No Hometown Hero," and "Okemah Rejects Woody Guthrie," it was further reported that other locals called the man whose achievements had focused national attention on their town a "bum" or a "no-good freeloader," "and scorned" him "as a man who deserted his wife and kids in Pampa, Texas in 1937."
Not everyone agreed with this assessment. Newspapers also reported in 1971 that Mrs. V.K. Chowning, "a crusty but keen-minded lady of 78, who founded the town library back in the '30s," gave her opinion that Woody was "'a lovely boy' who wrote 'some lovely songs' and should be remembered for that alone." He was also "a humanist," she said, adding: "And so entertaining. His high school class was the only class that never had to run dances or pie sales to raise money. They would just borrow a big flatbed truck, and put Woody on it with his harmonica and guitar and then pass around the cups. It didn't take long to fill 'em up let me tell you. We felt Woody deserved a place in our town. He loved it here. He was loyal to Okemah."
Apparently, at least one other Okemah resident likewise thought well of Woody, although it could have been an out-of-towner that spray-painted, in red, the words, "Here once lived one of the greatest Americans the world has ever known and his name was Woody" on the side of the old "London place" house where Woody had spent a portion of his childhood.
In 1972 controversary arose again when a new "light-bulb shaped" water tower was erected in Okemah and the words "Home of Woody Guthrie" were painted on it "by a maverick, a Democratic oilman who controlled the county waterboard, in spite of opposition "by the Okemah city council and the chamber of commerce." Although this recognition may not have been a true "reflection of the town's feelings," the words remained and are still there today, visible from Interstate Highway 40.
Around this same time, "local oilman Earl Walker" purchased the time and vandal-ravaged "London Place" for $7,000 in hopes he could eventually restore it and fill it with Guthrie memorabilia but in April 1980, the building collapsed after vandals reportedly used a sledgehammer to break "up enough of the foundation to cause the wooden structure to fall." A newspaper afterward reported that Walker had not "given up hopes of restoring folk-singer Woody Guthrie's boyhood home--even though the city" had given him until May 5 "to tear it down and souvenir seekers have begun carrying away its weathered boards." But it was hopeless: "I need the support of Okemah," said Walker, but "We've got people down here who wouldn't support Christ if he came back." In the end, Walker lost his fight and the house, which had been spray-painted with slogans both favorable and unfavorable (one proclaimed "Damn Communist"), came down. Today, only the rock foundation is visible.
A New Era Begins
Toward the end of the twentieth-century, enough of the old-timers who disliked Woody Guthrie's left-leaning politics had apparently died off to make it possible for commemoration of Woody Guthrie's life and music to take place without any significant opposition. In 1994 DeAnna Wilson's mural, featuring Woody playing the guitar, appeared on the side of a building in downtown Okemah and in 1998 the first annual Woody Guthrie Folk Festival took place (and continues to this day). That same year (1998), a statue of Woody, sculpted by Creek Indian sculptor Dan Brook was erected in the little park next to the mural. Since then, local wood sculptor Justin Osborn created the carved tree memorial that stands in what used to be the yard of the old "London place," at S. 1st Street and Birch, and a headstone with Woody's name and dates of birth and death has been placed at the Guthrie family plot in Okemah's Highland Cemetery. It now seems that nearly a century after he was born there, Woody Guthrie's hometown has at least joined the rest of the nation and embraced him.