Texas Discovery Garden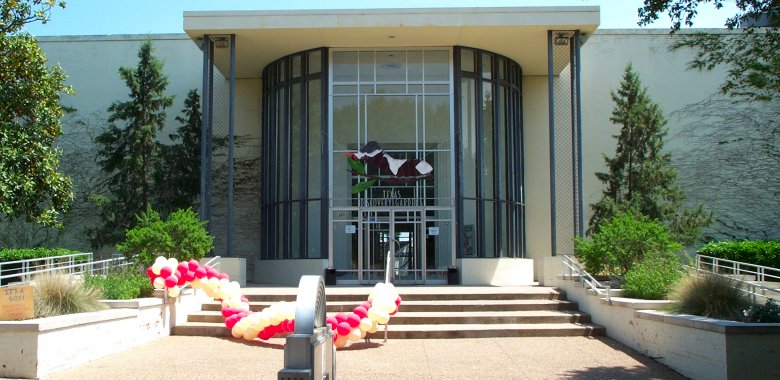 The Texas Discovery Garden (formerly the Dallas Civic Garden Center), located across the street from the Fair Park Bandshell, began in 1936 as the Texas Centennial Exposition's Hall of Horticulture. Designed by Arthur E. Thomas and M. C. Kleuser, it was made of Cordova cream limestone and San Saba marble, costing $75,000 to construct. The building visitors see today is the result of extensive remodeling that was carried out in 1957 and other additons made in the late 1980s.
There are no windows except for the south side of the building, which is made up of large-paned glass walls two-stories high. This section was originally called the "Winter Garden" and featured a fountain that sprayed colored water at night. Today, this part of the building is full of exotic, tropical plants and trees. There are walkways on different levels to provide visitors with a varied perspective on the foliage.
The building also features an auditorium that seats 600 people, which may be rented out for special occasions.
Behind the structure some beautifully landscaped grounds (7 ½ acres in all) that were redesigned and laid out in the late 1980s. In this area still stands one of four model homes built for the Centennial Exposition. It was also to this area that an Alamo replica was constructed in 1936 (to replace the Dallas Morning News replica that was torn down to make way for Centennial construction). A patio was built in front of the replica, with seats for foot-weary visitors, and apparently, it was one of the event's most popular attractions. It has long since been demolished. (See "Gone, But Not Forgotten.")
Immediately to the north of the Alamo replica, also in this area, stood two other long-gone Centennial Exposition attraction: a Texas Rangers Headquarters Building, made of logs, and a life-size replica of the "Jersey Lilly," Judge Roy Bean's famous (or infamous?) saloon. These structures have also long since disappeared.
The gardens in this area now form a peaceful place, in the heart of a busy city, to contemplate the beauties of nature.
For more information, visit this Web site with information about the Texas Discovery Garden.
---
Copyright © 2002-200312 by Steven Butler, Ph.D. All rights reserved.