Introduction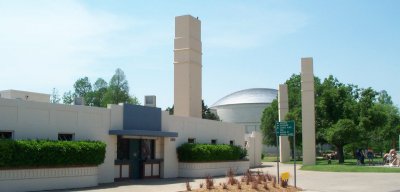 On 30 acres of land, formerly a residential area called "Buzzard's Gulch," stands a collection of museums and former exhibit buildings, almost all of which were constructed in 1935-1936 and opened in time for the Texas Centennial Exposition. Here you will find the buildings that comprise the Museum of Nature and Science, the Dallas Aquarium, the Dallas Garden Center, the Fair Park bandshell, and the studios and offices of city-owned Radio Station WRR. At the time the area was first developed, it was called the "Civic Tract," a good enough name for our purposes here, although it seems to have fallen into disuse over the years.
During the Texas Centennial Exposition this area contained a number of structures that have since been demolished. These include an Alamo replica, a log cabin housing a Texas Rangers exhibit, a replica of Judge Roy Bean's "Jersey Lilly" saloon, the National Cash Register Company exhibit (a building in the shape of a giant cash register) - on the northeast corner of present-day M. L. King, Jr. Blvd. and First Avenue, the Dreyfuss and Sons exhibit - which stood just to the west of the Aquarium, on First Aventue, a "Forbidden City" exhibit - beside the bandshell on the south side of First Avenue, a replica of the Spanish mission in Socorro, Texas - Nuestra Señora del Socorro - located by the lagoon between the bandshell and present-day Science Place I, and Tony Sarg's Marionette Theater - situated on the southeast corner of First and Grand Avenues. The theater had the distinction of being built in the shape of a giant toadstool!
For many years admission to all or almost all the museums was free, providing Dallasites with an inexpensive day out in the park. All that has changed, however, given the ever-increasing operating expenses that all museums have experienced in recent decades. For the most up-to-date information regarding each museum's hours, exhibits and admission fees, please visit their Web sites, links to which are provided on each tour page and in the Links section of this Web site.
Enjoy your tour!
Copyright © 2002-2009 by Steven Butler. All rights reserved.