Science Place I
In June 2006 the Science Museum was merged with the Dallas Children's Museum and the Natural History Museum to form a single entity, the Museum of Science and Nature. On December 1, 2012 the MSN will be reopened in downtown Dallas as the Perot Museum of Nature and Science, leaving the original buildings in Fair Park abandoned and empty for the first time since 1936. This web page contains historic information featuring the Science Museum as it existed prior to its move to downtown Dallas.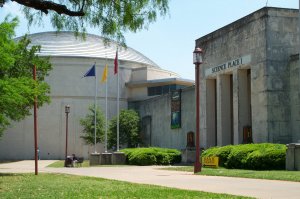 Science Place I, facing the middle of the lagoon, its back to Second Avenue, was originally built in 1936 as the Dallas Museum of Fine Arts (which was first housed in the Textile and Fine Arts Building, adjacent to the old Fair Park Coliseum). This building, like the Natural History Museum beside it, was constructed in the "classic modern" style with native Texas Cordova cream limestone. Red granite was used for the base of the building. Costing $400,000, it was the most costly of the buildings in this complex. Among its features are front and rear doors decorated with metal panels. Those on the side of the museum facing Second Avenue are of human figures painting and sculpting. The doors facing the lagoon feature Texas plant life.
In 1936, when it first opened, the building housed some $10 million worth of fine works of art. Over the years the collection increased in size and value. In 1984, the museum moved to a larger, more modern facility the newly-designated "Arts District" of downtown Dallas.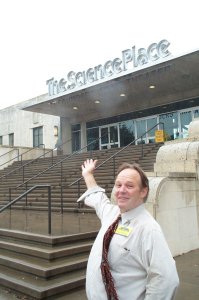 Today, as Science Place I, the building showcases a wide variety of permanent and special exhibits that offer visitors, the majority of whom are school children, the opportunity for a "hands-on" museum experience. One of the most popular seems to be the museum's robotic dinosaurs. Older visitors, who remember "Visi-Bill" and "Visi-Belle," the two transparent human figures, will be delighted to learn they now have a home in Science Place I, along with several other exhibits that were once housed across the street in the building now known as Science Place II.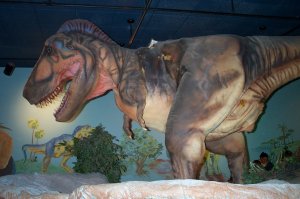 A little known fact about the museum is that its lower level houses a full-fledged public school where many kids are enrolled in the "Head Start" program.
In the photo to the right, Assistant Director Paul Vinson points to a relatively new addition to the museum -- a state-of-the-art IMAX theater, one of only three in the Dallas-Fort Worth area and the centerpiece of Science Place I.
---
This website copyright © 2002-2012 (except where noted) by Steven Butler. All rights reserved.