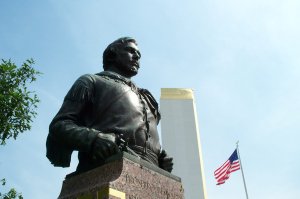 Only a few steps from the Berlin Bear statue, atop a granite pedestal, stands a heroic-sized bust that was a gift to the Texas Centennial Exposition from Italian residents of Texas. It depicts Prospero Bernardi, an Italian immigrant who took part in the Battle of San Jacinto, where he was wounded on April 21, 1836.
Italian artist Pompeo Coppini, who also executed the six statues in the Texas building's Hall of Heroes, sculpted the bust. Governor James V. Allred unveiled it on Italian Day at the Texas Centennial Exposition, October 12, 1936. At that time, the Fascist dictator Benito Mussolini ruled Italy. Among the dignitaries attending the dedication ceremony was Commendatore Bartolomeo Migone, First Secretary to the Royal Italian Embassy in Washington, D.C., who remarked: "The Fascist Government was proud and is proud today that Governor Allred asked that it send a representative to take part in the ceremonies here." He added: "It is proud to know that you are honoring an Italian hero at this great American world fair, the Texas Centennial Exposition."
Said Allred: "Prospero Bernardi was one of many unsung heroes who fought and gave their blood for Texas 100 years ago. Some of them are known, like Bernardi. Others are unknown but all live in the hearts of our people."
This ends the tour of Fair Park's Historic Heart. Hope you enjoyed it!