Sydney Smith Memorial Fountain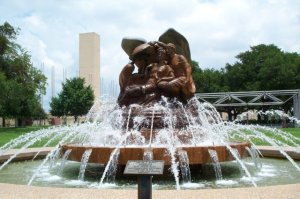 Adjacent to the Vietnam Veterans Memorial stands an older monument, the Sydney Smith Memorial Fountain. Smith was the long-time Secretary of the State Fair Association who first served in that capacity after the resignation of Frank P. Holland in 1886. Mrs. Smith, that same year, was appointed head of the State Fair's Ladies Department. Captain Smith, a Confederate veteran, retained his position in 1887 when the Dallas State Fair and Texas State Fair combined and held it again in 1888. In 1889 he handed the reins over to his assistant, Claude A. Cour, who was State Fair Secretary for the next eight years. Then, from 1897 until his death in 1912, Smith served continuously in his former capacity.
Smith was a native of Marengo County, Alabama. During the Civil War he served four years in Company D, 1st Mississippi Regiment with which he attained the rank of Captain. At the time of his death, Smith was 73 years old and had spent forty-nine of those years in Dallas. His home was at 4003 Junius Street where he spent his old age alone, Mrs. Smith having passed away in the fall of 1903. He was buried at Greenwood Cemetery and his funeral service was conducted by the Reverend Bishop Alexander Garrett.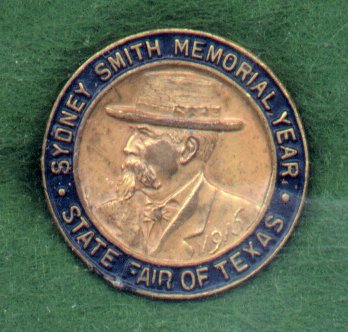 The Memorial was unveiled at 2:30 P.M. on Saturday, October 14, 1916 by Miss Isabella Stratton, Smith's grand-daughter. Part of the money for the Memorial came from the sale of special Sydney Smith badges. The bronze statuary, sculpted by Dallas artist Clyde Gitner Chandler, consists of four female figures symbolizing physical characteristics of Texas. "Mountain" is seated, with "Prairie" at her knee. The "Gulf" reclines while the winged "Gulf Clouds" seems to dance in the fountain's spray.
The fountain originally stood at the head of the Grand Plaza, near the old Exposition Building, but was later moved to a spot immediately in front of the Music Hall. In the 1970s it was moved again, to the site it now occupies, during construction of an extension to the Music Hall.
Just to the east of the Sydney Smith Memorial, on the site of today's Automobile Building parking lot, once stood the original Fair Park Automobile Building. The red brick structure was built in 1922 and in 1936 was joined to the new Electrical and Communications Building. As previously mentioned, both burned down in 1942.