Federal/Tower Building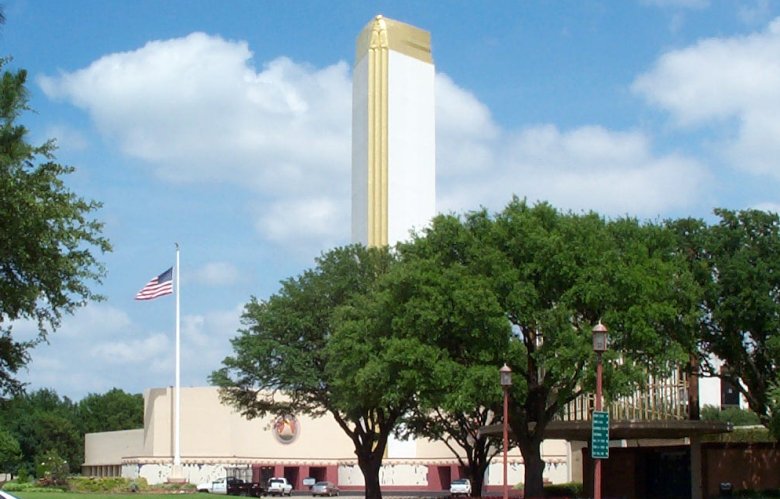 Just a few yards north of Grand Place stands the Tower Building, constructed for the Texas Centennial Exposition as the Federal Building. Its most distinguishing feature is its tall tower topped by a stern-looking stylistic bald-eagle, designed by Raoul Josset and sculpted by artist Jose Martin. Lower down, on the front of the building, on either side of the tower, are large plaques depicting the front and reverse sides of the Great Seal of the United States. A large bas-relief frieze featuring figures of early Texas pioneers, explorers, soldiers and so on decorates the front and sides of the building.
| | |
| --- | --- |
| | |
During the Centennial Exposition this building, as its former name implies, housed exhibits of United States government agencies. These included the Department of State, the Department of Commerce, the various branches of the U.S. armed forces, the Department of the Treasury, the Department of the Interior, the Library of Congress, the Smithsonian Institute and the Post Office - to name but a few.
In 1954 this structure was designated the "Electric Building." The tower featured lighted letters spelling out its new name and a large clock. In recent years the building has been used during the State Fair for general exhibits and for indoor food vendors selling pizza, Tex-Mex food, barbecue and so on - generally at prices a little more reasonable than on the Midway.
The exterior of the Tower Building features a decorative frieze, 7 feet, 2 inches high and 175 feet in length, which utilizes symbolic figures to tell the story of Texas' history. Although the frieze is in plain sight throughout the year, most visitors to Fair Park seem to ignore it. The next time you visit, perhaps you might take a closer look at the work of artist Julian Garnsey, a "California and New York artist of international reputation." (DMN, June 14, 1936)
The frieze is located at the base of the building on the north and south walls and in the center. Click on the "thumbnails" below to view and learn more about each individual panel; or begin with North Panel 1 and move through the panels sequentially.
---
This website copyright © 1996-2012 (except where noted) by Steven Butler, Ph.D. All rights reserved.