Return to Tower Building page.
NORTH PANEL 2
<<--PREVIOUS What does this frieze symbolize? NEXT -->>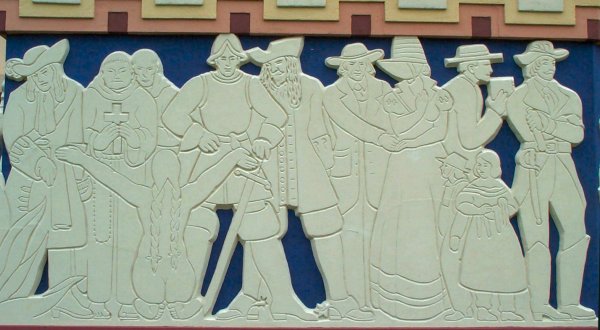 This frieze symbolizes the early history of Texas. From left to right: LaSalle, the French Explorer; Father Hidalgo and a Francisican monk presenting a cross to an Indian woman; Ramon, a Spanish adventurer; St. Denis, the Frenchman who marked out the Camino de Real; Dr. James Long, his wife Jane, and their 2 children; Rev. Henry Stephenson reading a Bible, symbolizing the Protestant Church in Texas; Jean Lafite, the French "pirate king of Galveston Island."
Source: Dallas Morning News, Dallas, Texas, June 14, 1936.
This website copyright © 2002-2005 by Steven Butler. All rights reserved.