Return to Tower Building page.
NORTH PANEL 3 LEFT HAND VIEW
<<--PREVIOUS What does this frieze symbolize? NEXT -->>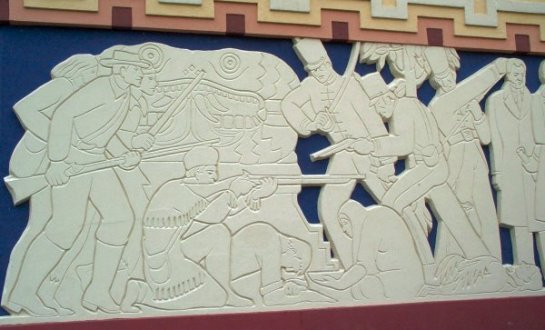 This left-hand side of this frieze symbolizes the Texas Revolution. From left to right: A "symbolic representation of the conflicts between volunteer Texan forces and Mexican soldiers at Goliad and the Alamo"; Senora Alvarez, the "Angel of Goliad" ministering to a wounded Texian; a dead Texian covered with a palm leaf, symbolizing the soldiers at Goliad who were executed on Palm Sunday, 1836.
Source: Dallas Morning News, Dallas, Texas, June 14, 1936.
This website copyright © 2002-2005 by Steven Butler. All rights reserved.