Return to Tower Building page.
NORTH PANEL 3 RIGHT HAND VIEW
<<--PREVIOUS What does this frieze symbolize? NEXT -->>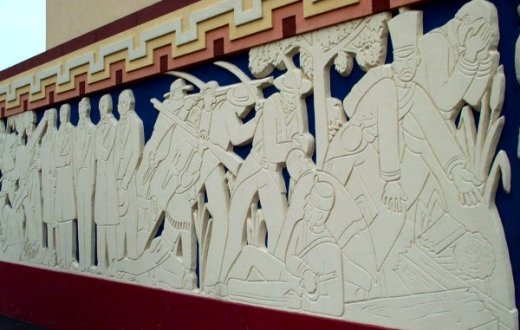 This center of this frieze includes a group of illustrious Texans: Governor Henry Smith; Lt. Governor J. W. Robinson; Stephen F. Austin; and Sam Houston. The right hand side continues the Texas Revolution, with the Texas Army routing the Mexican Army at the Battle of San Jacinto, April 21, 1836. Notice the Texian soldier rising from the ground and the broken bridge, symbolizing the one that Deaf Smith destroyed to prevent Santa Anna's escape.
Source: Dallas Morning News, Dallas, Texas, June 14, 1936.
This website copyright © 2002-2005 by Steven Butler. All rights reserved.