Return to Tower Building page.
SOUTH PANEL 2
<<--PREVIOUS What does this frieze symbolize? NEXT -->>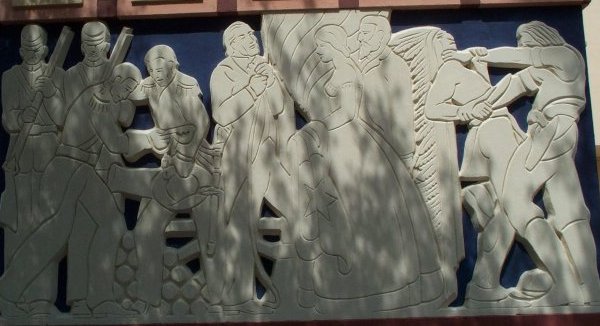 This frieze, which "reads" from right to left, tells the story of Texas' pioneer days. On the right is a Texas Ranger grappling with a Comanche Indian, next, Governor J. P. Henderson raises the U.S. Flag in 1846 following a speech by Anson Jones, the last President of the Republic of Texas. Finally, we see the surrender of Mexican forces to Generals Winfield Scott and Zachary Taylor following the Mexican War of 1846-1848.
Source: Dallas Morning News, Dallas, Texas, June 14, 1936.
This website copyright © 2002-2005 by Steven Butler. All rights reserved.